Sea kayaking is one of the fastest growing areas of paddle-sport, and has been for some time. This is no surprise really, after all we are a country of island dwellers and for many the urge to explore the oceans and coastlines is in the blood.
So, below we have put together a list of the best sea kayaks that you can find and buy.
Should I Buy a Plastic Kayak or an Inflatable One for Sea Kayaking?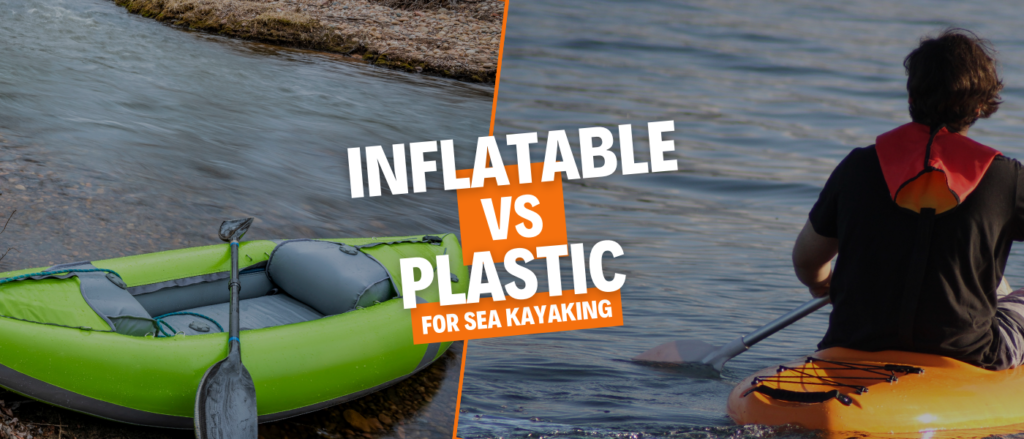 Plastic sea kayaks are tough and a great way to access the freedom of the sea, without forking out for an all singing, all dancing, and expensive composite boat.
Inflatable kayaks are lighter, easier to transport and can be inflated and deflated quickly. They also tend to be cheaper than their plastic counterparts.
But which is best for sea kayaking, plastic or inflatable?
Well for most the answer will be plastic.
Most sea paddlers prefer the tough, hardwearing characteristics of a rotomoulded boat, after all the sound of gel coat scraping off against barnacles is a heartbreaking sound!
The majority of inflatable rafts simply aren't built for the turbulent conditions and obstacles found in the ocean.
This is why for the most part we only considered plastic kayaks for this buyers guide, with the odd exception although as it stands no inflatable options made it on to the shortlist.
The 14 Best Sea Kayaks
Best For Beginners & Budget
1. Aqua Marina Steam Sea Kayak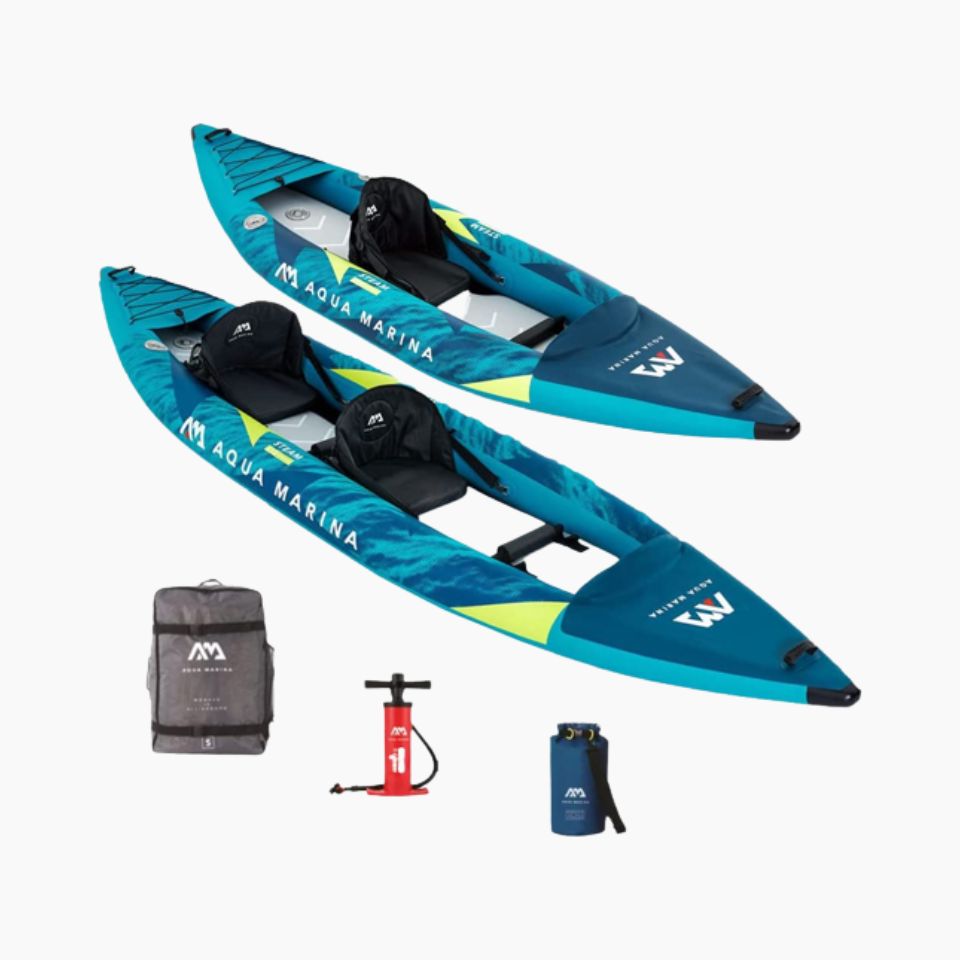 Specifications
| | |
| --- | --- |
| Length: | 312cm |
| Width: | 56cm |
| Weight: | 11.5kg |
The Aqua Marina Steam is the perfect sea kayak option for beginners and kayak all rounders.
As an inflatable option, the speed and stability is never going to be as good as a hardshell alternative. However, the Aqua Marina Steam is on the higher end when it comes to inflatable sea kayaks.
The raft is durable and a v-shaped keel/skeg makes for great tracking. Self bailing scupper plugs and a drop stitched floor also makes this a suitable raft for even choppier waters and sea conditions. Perfect for those looking to take to the waters when we see the odd bit of sun.
Best in Test & All Rounder
2. Sevylor Inflatable Colorado Sea Kayak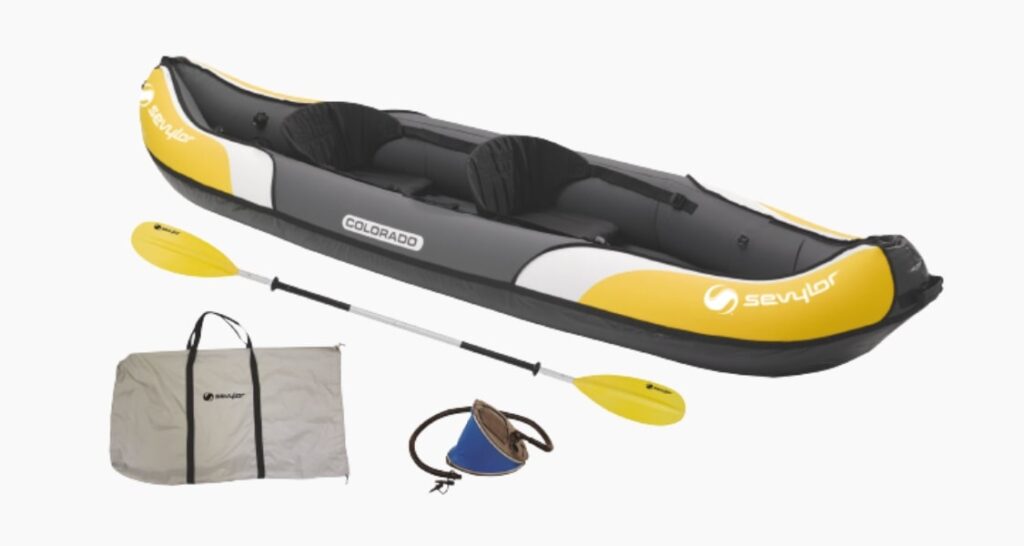 Specifications
| | |
| --- | --- |
| Length: | 331cm |
| Width: | 88cm |
| Weight: | 14.7kg |
The Sevylor Colorado is an amazing 2 person inflatable kayak that performs tremendously out on the water, even out at sea.
Boston valves makes inflating and deflating the boat a dream, perfect for something you can get set up within minutes at the side of the lake or ocean.
Comfort is not an issue either thanks to the two inflatable seats and strategic design. A sturdy polyester hull helps the boat remain in shape whilst also ensuring that it is stable and durable.
This is also a good option for beginners, since it comes with an aluminium paddle, foot pump, skeg and carry bag.
The large outer chambers maximises stability (another beginner friendly feature), and the fin makes control and tracking a breeze.
Whilst the Colorado is not the cheapest raft you will find, it is priced extremely competitively for a sea kayak of this quality.
3. Valley Aquanaut HV RM Sea Kayak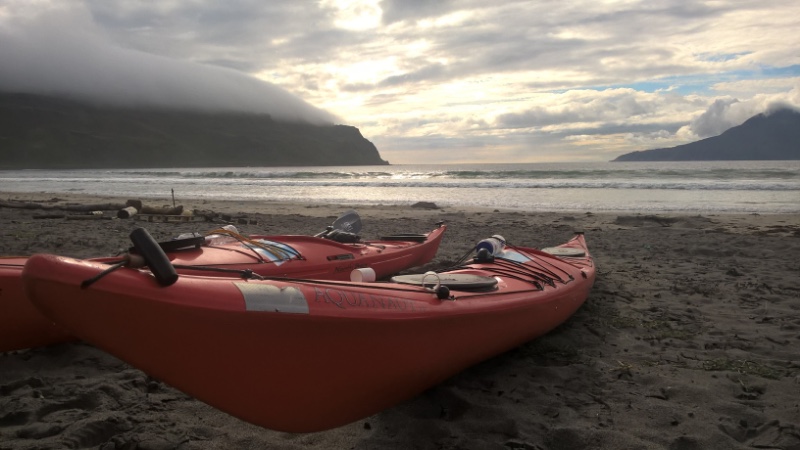 Specifications
This is the biggest boat in the Aquanaut RM range.
Based on Valley's popular composite Aquanaut range, it has a proven sea kayak pedigree behind it and that stood out on the water in the way it handles.
It can take bigger framed paddlers with ease and swallowed up gear in its hatches.
The outfitting was very no nonsense, in a good way, and the ergonomic padded seat, back-band and thigh-braces provided a comfy, positive fit and worked well.
We also really liked the alloy adjustable footrests, they felt way more solid than plastic ones and we really felt like the power from our forward strokes was all going into the boat without any being lost through flex.
The new Valley drop down skeg is really nice and the best one on all of the boats in the test.
The HV's triple-layer polyethylene construction produces a much stiffer shell and has the added advantage of in built buoyancy.
Its other benefits include reduced weight and greater resistance to abrasion.
Storage came in the form of welded contoured bulkheads (to allow for flexing of the hull when landing, launching etc).
There is a large hatch on both front and back and a smaller day hatch positioned just behind the paddler.
It also sports front and rear deck-lines and front deck-elastics.
On the water we found its primary stability excellent with a wide flat hull under the seat, and it was surprisingly stable in the secondary stability stakes too.
These skills in the stability stakes give you a safe predictable paddle in all kinds of conditions, which means an enjoyable time on the water, for less confident or experienced paddlers, without feeling compromised.
For those that like to play amongst the rocks or on tidal races you may prefer the LV RM version, but for a bigger boat the HV can still hold its own in the performance stakes.
When the wind got fierce and the seas grew bigger it really came into its own and its sea kayaking pedigree stood out. It held its course and tracked well with the aid of the drop-down skeg.
The Aquanaut HV RM is a really great all-round sea kayak for larger paddlers, or those that like to take a lot of gear, and will in still confidence with its solid predictable nature.
4. Valley Aquanaut LV RM Sea Kayak
Specifications
The smaller version of Valley's modern all-round roto-moulded Aquanaut sea-kayak, for smaller paddlers or those looking for a little more manoeuvrability for playing on the oceans features.
The LV RM can still cut it in the gear loading stakes and shares the same stiff triple-layer polyethylene construction, outfitting and skeg as its big brother.
As with the HV, the modern shallower V on the hull and a little more flare above the waterline than older designs means that the LV has bags of performance, is fast but has increased stability, which makes it a great boat for all abilities of paddler.
Its initial stability is good but stick it hard up on edge and it has excellent secondary stability too.
We really enjoyed paddling the LV and even our bigger testers loved how it paddled amongst the rock gardens and over-falls.
5. North Shore Atlantic RM Sea Kayak – VFM Award – CK Recommended
Specifications
| | |
| --- | --- |
| Length: | 515cm |
| Width: | 55cm |
| Weight: | 26kg |
| Volume: | 360 litres |
| More Information: | northshoreseakayaks.com |
North Shore has been quietly turning out brilliant sea kayak designs since the mid-eighties.
Their Shore Line and then Atlantic designs are rightly acclaimed as cult classics. The Atlantic RM is the long awaited plastic version of this great modern sea kayak.
It features the same combination of shallow 'V' hull and soft chines, and provides the paddler with the same blend of speed, responsiveness and predictability, as its composite namesake.
Its shell is constructed from single layer polyethylene and it has a host of great features.
Storage comes in the shape of large front and rear hatches with bulkheads and a useful day hatch.
The adjustable alloy footrests were great and offered a very positive feel with no flex or movement that we experienced with the plastic versions.
The skeg system was smooth and easy to operate and the outfitting was simple but functional and most importantly comfortable.
Our test boat was literally the first plastic Atlantic to come out of the North Shore workshop and we were really impressed with this boat straight from the off.
It's the cheapest boat in the test by far, but there was nothing cheap about the performance and build quality.
It came straight off the boat rack and on to the water, with just a quick adjust of the footrests, and we felt instantly at home in it.
It's fast, playful, yet offers confidence inspiring stability.
The Atlantic RM is an ideal choice as a first boat of anyone looking to get in to sea kayaking and we can see these being very popular as a centre and club boat. Because of the great price yes, but more importantly because of the way the Atlantic RM paddles.
It's a whole lot of sea boat for your buck.
6. Venture Capella RM 166 (Longer Version) & 160 Plastic Sea Touring Kayak
Specifications
| | |
| --- | --- |
| Length: | 495cm (505cm on the longer version) |
| Width: | 56cm (56cm on the longer version) |
| Weight: | 23kg (24.5kg on the longer version) |
| Volume: | 282 litres (349 litres on the longer version) |
| Max Load: | 105kg (120kg on the longer version) |
| More Information: | https://venturekayaks.com/ |
The Capella is another boat that can boast a proven sea kayaking pedigree.
Originally designed and built in glass and plastic, it is now being produced by Venture Kayaks.
Like the Aquanaut, Atlantic and Nordkapp, it's also descended directly from a range of successful composite sea kayaks.
Its outfitting was good, with a comfortable, roomy padded seat and supportive backrest that can be tightened or slackened off by the use of ratchets fitted above the thigh-grips.
It's constructed from triple-layer polyethylene, which makes for a stiff and wear resistant shell, and built in buoyancy.
Out on the sea the Capella was superbly stable and forgiving and it certainly doesn't spring any nasty surprises on you. Making it a great boat for learning and gaining experience.
It could handle rougher conditions well too and gave a feeling of confidence in bigger seas.
Its forward speed was good and didn't have any problems when we stowed kit in the front and rear hatches.
It had good initial stability and good secondary stability once it was on an edge.
Its directional stability was also good and the drop down skeg kept it tracking well in wind.
We tested the longer 166, but it's also available in a shorter 160 version, which makes for a good rock-hopping boat for exploring the coastline and estuaries.
We really liked the Capella RM 166, it's a mellow ride and it covers a lot of bases.
The less experienced paddlers felt safe in it, but don't think that this is a boat just for those learning, the Capella's comfy feel, softer chines and easy going nature certainly provide a mellow experience for those looking to kick back, relax and rack up a few sea miles, but its ability to hold its own on the rough stuff make it a good choice for those looking to push their sea kayaking a little further with a few open crossings and over night trips too.
A great all-rounder.
Best For Advanced Paddlers
7. Valley Nordkapp RM Sea Kayak – Hardcore Award
Specifications
Where other boats in this test can lay claim to having a strong sea kayaking heritage the Nordkapp RM is the plastic version of the most famous sea kayak design in the world.
It's the plastic version of the current Nordkapp composite sea kayak, which is an evolution of the design used for the original Cape Horn and Nordkapp expeditions of the 1970's.
Indeed the original prototype was produced with the needs of the Nordkapp expedition in mind, hence the name!
Sharing the same tough, stiff triple-layer polyethylene construction, and British style of moderate 'V' hull design, solid outfitting and skeg system as the Aquanauts, on the water the Nordkapp's history shines through.
Beginners may feel that it's a bit tippier than other boats in the test, but its secondary stability is awesome and really inspires confidence in rougher conditions, and once you get used to the initial feel most paddlers will enjoy the way the Nordkapp paddles.
It can eat up the miles with ease, but we were surprised how good it was at playing amongst the rocks too.
Its real stock in trade though is getting out on the open sea and it paddled really well even with a heavy load on board.
If multi-day trips and expedition style sea kayaking is something you enjoy or aspire too then the Nordkapp is for you, it's a sea kayakers sea kayak and that's why it gets our hardcore award.
8. Wilderness Systems Zephyr Sea Kayak (155 & 160)
Specifications
| | |
| --- | --- |
| Length: | 475cm (488cm on the longer model) |
| Width: | 57cm (58cm on the longer model) |
| Weight: | 24kg (25kg on the longer model) |
| Max Load: | 125kg (136kg on the longer model) |
| More Information: | https://www.wildernesssystems.com/eu/en |
The Zephyr is intended to be a sporty sea kayak design.
Its wide hull makes it a very stable platform and added to a generous cockpit and loads of volume and the 160 that we tested can cope with really big paddlers too.
It's also available in a smaller 155 version for smaller to mid-sized paddlers.
It has a reasonable amount of rocker for a sea boat and a pronounced bow, which gave it a playful nature and it was great fun for picking up and surfing waves.
The Zephyr also tracked well when its drop down skeg was deployed.
The outfitting was really nice and all our testers liked the comfort and adjustability of the seat and thigh-braces.
The footrests were OK, but we were not the biggest fans of the plastic foot-pedals and we found, on occasion, that after setting the footrest up we'd knock it with our feet as we climbed aboard ready to paddle out through a shore break.
This would mean they slide out of position, which meant the deck either had to come off to re-adjust or we had to paddle out through the waves with no footrest on one side. Not ideal and irritating when it happened.
Load wise the Zephyr handled overnight kit with ease, with its stern, mid-ship and hatched bulkheads and the deck rigging was nicely positioned.
Less experienced sea paddlers will like the Zephyr's solid stability and reasonable secondary stability also inspires confidence in the less experienced paddler when things get a little rougher. However, its width made it hard to get it up on, and to hold an aggressive edge.
Those looking for more of a performance plastic sea kayak, or a multi-day/expedition style boat however may find it a little too pedestrian for their tastes.
9. Perception Essence Sea kayak (16 & 17)
Specifications
| | |
| --- | --- |
| Length: | 500cm (518cm on the longer model) |
| Width: | 57cm (58cm on the longer model) |
| Weight: | 25kg (26kg on the longer model) |
| Max Load: | 150kg (160kg on the longer model) |
| More Information: | https://www.perceptionkayaks.com/eu/en |
Right from the off we were impressed by the Essence.
Its sleek lines are very easy on the eye and the outfitting is really nice, especially for a boat at this price, with adjustable seat, backrest and thigh-braces and foot-pedals.
As we've already mentioned, we're not the biggest fans of plastic foot-pedals, but we had no issues with the ones in the Essence and they worked fine.
Its single skin construction made it light too, so unloading it from the roof rack and carrying it down the beach was easy.
Once on the water we really enjoyed the Essence's handling.
It tracked exceptionally well with the skeg down, was fast and had a lively feel.
It has a strong V on the hull, but with a softer, shallower section under the cockpit.
The idea behind this is that the boat tracks well, even with the keg up and still has great initial and secondary stability.
It does track really well, but, although it can certainly handle the rough stuff, it means its less manoeuvrable than some of the other boats in the test and was noticeably harder work in amongst the rock gardens or playing on waves and tidal flows.
Having said that though, that tracking means that it is adept at eating up miles with minimum effort; so is a good choice if doing long trips is your deck-bag.
Storage duties are taken care of by a bow and stern bulkheads with a handy day hatch just behind the cockpit.
Perception have definitely taken things a bit further with the design of the Essence and we liked it far more than their previous plastic Sea kayak The Sealion, which this replaces and good performance, good outfitting and a very competitive price all make the Essence a strong contender to go on your list of new boats to try.
Best For Play & Surf Kayaking
10. P&H Delphin (Corelite) Sea Kayak – CKUK Ocean Play Award
Specifications
The team at P&H have turned out some really great new designs over the last couple of years.
On the composite side we loved their Cetus design and they followed that up with the Scorpio, a plastic cousin to the Cetus.
Sea boats designed to be more playful are not a new idea, but with the design of their new 'Ocean Play' Sea kayak the Delphin the P&H designers have ditched any preconceived ideas about sea kayak design and thrown the rulebook out of the window.
A brave move in a discipline and market where traditional designs are revered.
What they have come up with is a sea boat that revels in extremely rough water, yet can still cut it on longer trips and inspire confidence in less experienced paddlers.
On first sight the Delphin is no classic beauty, but on closer inspection and after getting to know it better its quirky looks really grew on us.
The Delphin has a ton of rocker, on the shore it almost looked asymmetrical, but because they've positioned the cockpit so far back once you get on the water it doesn't seem so pronounced.
The bow has been chopped and squared off so, as you paddle forwards, it engages with the water and helps the Delphin track.
The outfitting was great and the Delphin gave a very positive and comfortable position with its ratchet style back-band.
Construction is from P&H's stiff and tough triple-layer Corelite and storage came in the shape of a large stern and bow bulkheads with hatches, plenty of space for day-tripping kit.
The Delphin was surprisingly fast; much better than we'd assumed it would be and has really quick acceleration for catching waves.
Out on the water it paddled really differently to all the other boats, but it's fair to say that we loved it.
It is really, really easy to edge and its manoeuvrability is amazing.
We were able to carve turns in and out of tricky rock gardens with ease and were happy to try moves that we wouldn't have in the other boats, with maybe the exception of the Alchemy.
In the waves the Delphin was again brilliant fun and we found ourselves picking bigger and bigger waves and dropping in later than we'd dare in other sea kayaks.
We knew from the pre-release hype that the Delphin was going to cut it in the 'play' department, but what we weren't expecting was how well it coped with 'proper' sea paddling as well.
As we've already stated it's initial and secondary stability are excellent and it edges and carves with ease, but drop the skeg and get your head down and it also tracks very well and is more than capable of racking up the sea miles on longer trips. The faster we paddled the better it seemed to track!
We tested the 155 version of the Delphin, but there's also a 150 version in the pipeline for smaller paddlers too.
We wouldn't go as far as saying that we'd choose one for multi-day or expedition purposes, but for day-trips and maybe the odd over night camping trip?
Definitely.
Especially if there's going to be the odd tidal race, rock garden or surf break along the way.
If exploring the coastlines rock gardens and caves, catching waves and generally playing on the sea is what you love then the Delphin is for you, and we can certainly see many 'expedition' sea paddlers adding a Delphin to the boat rack as a second boat for days when they just want to head out for some fun.
It can't win our overall best in test award because, as good as it is, it is still predominantly an ocean play boat but we liked it so very much we've invented a brand new CKUK award, just for the Delphin.
11. P&H Scorpio Sea Kayak (170 & 168 LV)
Specifications
| | |
| --- | --- |
| Length: | 516cm (509cm for the smaller model) |
| Width: | 56cm (54cm for the smaller model) |
| Weight: | 28.5kgs (25kgs for the smaller model) |
| Volume: | 305 litres (285 litres for the smaller model) |
| Max Load: | 125kg (110kg for the smaller model) |
| More Information: | https://www.phseakayaks.com/ |
We've already mentioned previously how much we liked P&H's Cetus composite sea kayak, so when we got our hands on its plastic cousin, the Scorpio, expectations where high.
It certainly shared its cousins easy on the eye good looks with sleek lines.
Outfitting was good, although again we weren't keen on the plastic footrests and they were fiddly to adjust.
Storage was plentiful with bow, mid-ships and stern bulkheads with hatches and an easy to access day hatch.
Once on the water we were pleased to find that the Scorpio shared the Cetus's excellent handling characteristics.
Its rounded hull with a shallow 'V' gives it very good manners and its fast and efficient when on the move.
Its initial and secondary stability is great and it can be held on edge for turns very easily.
The best thing about the Scorpio's design is how it manages to be great for long open crossings, tracking well and covering the miles, combine that with an ability to handle rougher conditions with ease, even when fully loaded, and that makes it a solid, serious, expedition style boat.
But there's another side to the Scorpio, a playful side that surfs waves and nips nimbly between rocks, caves and sea arches pretty much as well as anything in the test with the exception of the Delphin.
It's highly manoeuvrable for a boat of its type, but less experienced paddlers found its mild mannered friendly feel confidence inspiring and easy to get on with.
Add all that together and you get a modern plastic sea kayak design, available in standard or LV versions, with great features and fittings, that pretty much ticks all of the boxes for the majority of sea paddlers, so that's why it gets our CKUK Best In Test Award
12. Dagger Alchemy Touring Sea Kayak (14 Small & 14 Large)
Specifications
| | |
| --- | --- |
| Length: | 427cm (455cm for the larger model) |
| Width: | 58cm (63cm for the larger model) |
| Weight: | 23kg (26kg for the larger model) |
| Max Load: | 125kg (136kg for the larger model) |
| More Information: | https://www.dagger.com/eu/en |
Available in two sizes, the Alchemy, as its name suggests is a blend of both touring and sea kayak characteristics to produce a short playful boat that's at home on lakes, rivers, estuaries and indeed the sea.
We don't think we're being unfair to the Alchemy when we say that in the company of the out and out sea kayaks in this test, when it comes to paddling on the ocean, it's punching above its weight.
But, despite coming from the more 'touring' end of the spectrum in terms of design it did do a great job of holding its own amongst the salt encrusted sea dogs with its pugnacious personality.
Outfitting the Alchemy is spot on with all the fixtures and fittings that we've come to expect from kayaks from Dagger Europe with a very comfortable cockpit.
Bow and stern bulkheads, with three access hatches provide storage and deck elastics are nicely positioned.
It's surprisingly fast for a shorter boat and its fantastic initial stability means that it's a great platform for beginners to learn skills and increase their confidence.
It's no slouch on the secondary stability front either and it reacts well to being aggressively edged for carving turns.
On the water the Alchemy is most at home getting amongst it close in to the coastline.
Its short length and great manoeuvrability are great for nipping in and out of rocks and we enjoyed timing it so we could surf the swell through some pretty tight gaps.
Its pronounced rocker and cockpit positioning meant that it was pretty nifty in the wave surfing variety and was the only boat in the test that came near the Delphin's playability.
It struggled a bit once we headed out of the bays and coves and steered a course in to more open waters and it suddenly felt out of its depth amongst the rolling swell and wind.
If longer day-trips, open water and multi-day paddling is your thing then it's not for you, but if rock-hopping and exploring estuaries is what you want to do then the Alchemy is definitely worth a test drive, as it is a really manoeuvrable kayak that's fun to paddle.
13. Wilderness Systems Tempest 170 Sea Kayak
Specifications
As with the Zephyr, the cockpit outfitting on the Tempest was really good.
It allowed for loads of comfortable support and produced a very positive fit.
Foam sealed bulkheads supply storage front and back and large bow and stern hatches, with dual-density covers. There's a rear day hatch too for easy access to items you might need while afloat.
Out on the sea the Tempest really came in to its own, it's very nimble, but still managed to deliver on the stability front.
It is extremely well mannered and we definitely enjoyed paddling it a lot.
When we tested plastic sea kayaks a few years ago the Tempest stood out as the most playful boat in that test.
Things have moved on a bit now and newer designs have surpassed or equalled it in this respect, but the Tempest is still a great sea kayak for dealing with the rough stuff, punching out through shore breaks, surfing waves and shooting through a few exciting rock gaps between the swell.
It had a good amount of forward speed and its positive fit and good initial and excellent secondary stability made it a popular boat with our less experienced testers.
When things got a bit wilder though they weren't so keen and it struggled with getting pushed around a bit in stronger wind and bigger waves.
However, more experienced paddlers will enjoy playing in the Tempest in more challenging conditions.
If you want a boat to have some fun in on day trips or one night camping trips, playing in waves, tidal races and rock hopping then it certainly delivers performance in a user-friendly form, but if you aspire to longer multi-day trips and more challenging crossings then it's probably not for you.
14. Venture Kayaks Easky 17 & 17LV Sea Kayak
Specifications
| | |
| --- | --- |
| Length: | 507cm (506cm on the smaller model) |
| Width: | 58cm (56cm on the smaller model) |
| Weight: | 26.6kg (25kg on the smaller model) |
| Volume: | 337 litres (323 litres on the smaller model) |
| Max Load: | 145kg (140kg on the smaller model) |
| More Information: | https://www.venturekayaks.com/ |
The Venture Kayaks Easky 17 is the longest kayak in the popular Easky range, but like the Alchemy, it's a boat that comes from more of a touring background.
Outfitting was good with a comfortable cockpit and neat flip top backrest system.
It has bow and stern bulkheads with hatches and an additional day hatch and well-positioned deck-lines.
Our test boat was fitted with a rudder system, which worked well but this is an optional extra, as is a drop down skeg, the system that we'd opt for given a preference, and the Easky comes without either as standard.
On the water the Easky 17 was fast and tracked really well.
The rudder allowed us to steer without wasting and forward strokes so that added to the feeling of speed.
Its initial stability is brilliant, so it was great for beginners to get a feel for the sea in calm conditions. But it was so great that it made getting it up on edge difficult.
In the rough stuff it struggled, its initial stability goes so far but its secondary stability was poor and if it goes beyond that point it was over.
It was easy to roll though, but its much better suited to racking up the miles on calm days or on sheltered waters such as estuaries or inland lakes.
Sea Kayak Buying Guide
Initial & Secondary Stability – What Does it Mean?
A sea kayak, any kayak in fact, has two kinds of stability, initial and secondary that affect how it handles.
High initial stability means that a boat feels very solid and stable when it is sitting upright.
For instance a wide sea kayak with a flat bottom has very high initial stability and feels great to beginners, but get it out in waves and it will constantly try to conform to the surface of the water, and will lurch from side to side every time a wave goes under it.
Generally a kayak with very high initial stability is also a very slow kayak.
High secondary stability means that the paddler feels secure when leaning over to one side or when edging the kayak.
Low secondary stability in a sea kayak means that if you don't keep your boat perfectly upright, or if you are temporarily off balance for a moment, you must be very quick to put in a support stroke or you will capsize.
Sea kayaks are usually slightly wider on deck than at the waterline, to give them secondary stability.
They're All Good
It's rare to get a badly designed bit of kit or boat these days, but in any group test it's fair to say that there are usually a few that suffer from niggles or performance.
Not in this test!
It really was a hard task to choose between the eleven boats that we tested.
Some are better than others for certain types of paddling, but all were great in their chosen field.
That makes it hard for us as boat testers, but is great news for you as paddlers.
We've given awards and recommendations to those that we liked, but we'd happily recommend any of the boats on test if they fit your needs and what you're looking at in a plastic sea kayak.
Try Before You Buy
If you're considering buying a plastic sea kayak it's really important to try the boats on the water.
Most good dealers have fleets of demos and access to water; some may even allow you to try stock boats if they don't have a demo of a particular model.
Twenty minutes on the water will tell you more about whether the boat is right for you than any website or brochure.
Also, make sure you read our other sea kayak reviews to get the best idea possible of what options are out there.