You don't have to spend much time out on the water before you realise just how many benefits there are to kayaking.
Beginners, intermediate and advanced paddlers will see benefits spanning the physical, mental and emotional.
Not only does kayaking work your core muscles (not to mention your arms, shoulders and back!), but being out on the open water is great for reducing stress and increasing general well being.
Also, kayaking is a relatively low impact sport so it can be enjoyed by people of all ages.
So, now that we have discussed some of the clear benefits of kayaking (if you didn't know them already), we will jump into the list of the top 10 best inflatable kayaks.
The 10 Best Inflatable Kayaks
1. Itiwit Touring Inflatable Kayak
Itiwit Inflatable Kayak Specifications
| | |
| --- | --- |
| Length: | 365cm |
| Width: | 103cm |
| Weight: | 16kg |
| Maximum floor pressure: | 0.34 bar (5 psi) |
| Side tube and seat pressure: | 0.2 bar (3 psi) |
| Number of Seats: | 1 or 2 |
What do the paddling experts think?
You can explore everything […] Great product […] Would recommend.

Alive Road, Kayak Reviewer
The Itiwit inflatable kayak comes in a decently sized carry bag, ideal for transporting it to the seaside or river for a quick paddle.
The bag has two straps on the back to help with carrying, which aren't the most comfortable. This is more of a concern if you are going to be on multi-day trips which involve a lot of walking with the kayak on your back.
The bag has a front pocket which is useful, and this contains a kayak repair kit and manual.
The Itiwit inflatable kayak is able to be inflated in an impressive 5 minutes if you are using a two-way pump. If you are using a one-way pump then you could reasonably assume it will take ~10 minutes. It is important to note that the Itiwit does not come with a pump, so you will need to purchase one separately.
It is a 1 piece, which are generally easier to transport as they can be inflated without much fuss (perfect for the beach or a quick paddle at your local rive
Attachable and adjustable inflatable seats mean that the kayak is very comfortable, even if you are out on the water for a couple of hours.
You can position the seats wherever you want making the kayak suitable for 2 paddlers of any height.
One negative is that the seats don't have very high back support, so if you suffer from lower back issues (or if you're older and/or less active) then you may not find it to be the most comfortable kayak in the world.
Most reviewers find this kayak to be very comfortable even for multi hour paddle sessions.
I also can't see how you would attach a spray skirt, so if you know you don't want to get wet at all then this may not be the best option. Having said that most inflatable kayaks are not built with spray skirt attachments.
A generous storage area at the back of the kayak will fit all of your important items in and keep them safe (especially when you put them in a dry bag before placing this in the storage area).
Out on the water the Itiwit performs surprisingly well, even in windy sea conditions.
The kayak also looks great, featuring a duo colour tone (multiple options available) and a nice sleek design.
A handy strap on the front of the kayak helps you take it out into the water and/or your launch site.
2 keels on the back and 1 on the front (you will need to attach these after inflating the kayak by sliding them into the slots, and fastening them with the plastic switch until they click and lock into place) means the raft has good balance and tracking.
The excellent stability of the boat makes getting into it very easy and means you aren't concerned that you are going to capsize whilst out on the water, even in choppier conditions. This makes it very beginner friendly.
Manoeuvrability is good, and you will even be able to go between obstacles (e.g. tight rocks) with ease.
The material is strong and durable so even if you do pass rocks or an obstacle a little too closely, odds are your kayak will handle it with no issue.
Overall a perfect inflatable option even for light sea kayaking and even more so for river and lake paddling.
You will need quite some space to dry the Itiwit properly, which is important to prevent mould and mildew.
Really you should disassemble the kayak completely to dry properly after every use, this means removing the floor and seats.
Itiwit Inflatable Kayak Pros & Cons
Pros
Despite the lower back support, the kayak is extremely comfortable.
Incredibly durable, strong and reliable.
Manoeuvres and tracks really well.
Superb stability lowers the risk of capsizing considerably.
Sleek, lean and colourful design is very appealing.
Quick to inflate (approx. 5 minutes with a two way pump).
Great primary and secondary stability makes the kayak suitable for light sea paddling as well as river and lake sessions.
Cons
The back support is quite low on the seats.
Carrying the bag is not the most comfortable due to the design of the back straps.
Can't see how a spray skirt could be attached if you wanted one.
2. Intex Challenger K2 (Two Person) Inflatable Kayak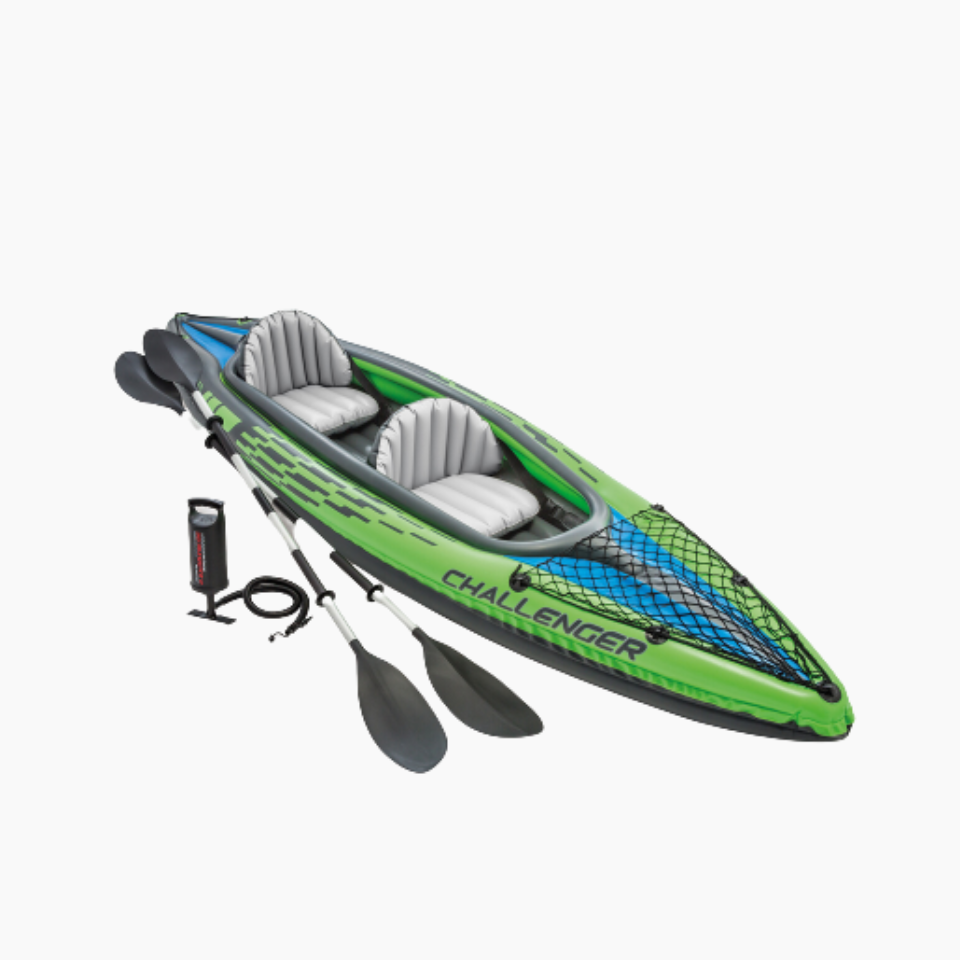 Intex Challenger K2 Inflatable Kayak Specifications
| | |
| --- | --- |
| Height: | 91cm |
| Width: | 351cm |
| Depth: | 38cm |
| Weight: | 14.85kg |
| Maximum Paddler Weight: | 160kg |
What do the paddling experts think?
If you're thinking about getting one of these, and you're not entirely sure, I'd say just to it.

Camp Life Bushcraft, Kayak Reviewer
The Intex K2 Challenger is easy and relatively fast to setup, taking about 15 minutes to fully inflate (including inflating both of the adjustable and attachable seats) using an electric pump. This boat is quicker to set up than the Excursion or Sea Hawk models.
It may take you longer if you are using the hand pump which comes with the boat though, and most find pumping up any inflatable kayak by hand quite tiring.
Personally I would always suggest grabbing an electric pump just to save you the time and effort of inflating any boat manually.
The Intex K2 comes in a large bag with a carry strap attached to the top.
Whilst the carry strap does offer some convenience, it isn't really one that you can carry on your back or over the shoulder. So maybe not the best option for multi day excursions which will involve a lot of carrying.
The actual kayak has grab handles on the front and back of the kayak, making launching and landing easy.
A water release valve at the back is a great feature, and one many would like to see on some of the other Intex models.
This feature alone makes the boat considerably more portable since it will dry quicker providing you release any water that finds its way into the cockpit.
The comfort offered by the Intex Challenger is amazing, even more so considering the price.
Unlike the Itiwit boat discussed above, the back rests on the adjustable seats in this raft are high enough for complete comfort and support.
You will comfortably be able to paddle for hours on end without getting uncomfortable.
Whether you are looking to buy the boat for solo trips or family ones, you will find the Challenger K2 perfectly sized.
If you are considering the K2 or the K1, go with the K2.
The K1 is considerably smaller and made for solo paddlers, but even if you are a solo paddler you won't struggle on the K2.
You have some good room for storage, and plenty of leg room thanks to the adjustable seat positioning.
You have barrel storage space which will comfortably fit your dry bag, and even overnight camping supplies if you fancy a multi day river excursion.
Also, the fact that the boat comes with a pump and the paddles is a nice added bonus.
The maximum capacity is roughly 400lbs, which is no problem for a 2 person inflatable kayak.
The Intex Challenger K2 is well suited to a wide variety of water conditions, from calm seas to river paddling in rain or shine.
Of course an inflatable boat is never going to be as high performance as a hardshell option, but the stability on this one is remarkable.
Launching and landing is easy, providing you are paddling on calm waters.
There can be a bit of resistance when paddling into the wind, although this is true of any kayak.
The boat is a single skin one, so not as strong as double skin alternatives.
You will want to be careful navigating any sharp rocks or obstacles, and the boat does come with a repair kit in the event that you get a puncture.
An attachable skeg means that the Intex Challenger K2 tracks very well,
Some wish the paddle was a little longer, but in general the light weight and sleek design makes building up speed easy in the right conditions.
As a single skin kayak you will need to be careful where you paddle this one.
If you are careful and look after your kayak, it will last you many happy paddling sessions.
The water release valve makes maintaining the Challenger K2 a lot easier.
For maximum durability you will need to completely dry out the kayak between paddling sessions.
After every session, let out any water in the chamber using the valve, and remove the seats before fully deflating the boat.
Once dry, back away and store the raft in the carry bag.
Intex Challenger K2 Pros & Cons
Pros
Very comfortable, with adjustable seats and padded back rests.
Pump and paddles included.
Suitable for solo or multiple paddlers.
Perfect for river or lake paddling, and even calm sea paddling.
Ample storage space.
Strong primary and secondary stability.
Water release valve in the cockpit for maximum drying and maintenance.
Beginner friendly and very easy to set up.
Cons
The paddles could be a little longer.
Has been known to sell out in the summer.
Single skin material means that the kayak is at a higher risk of tears and damage if you aren't careful.
Best Tandem Inflatable Kayak
3. Intex Excursion Pro K2 Inflatable Kayak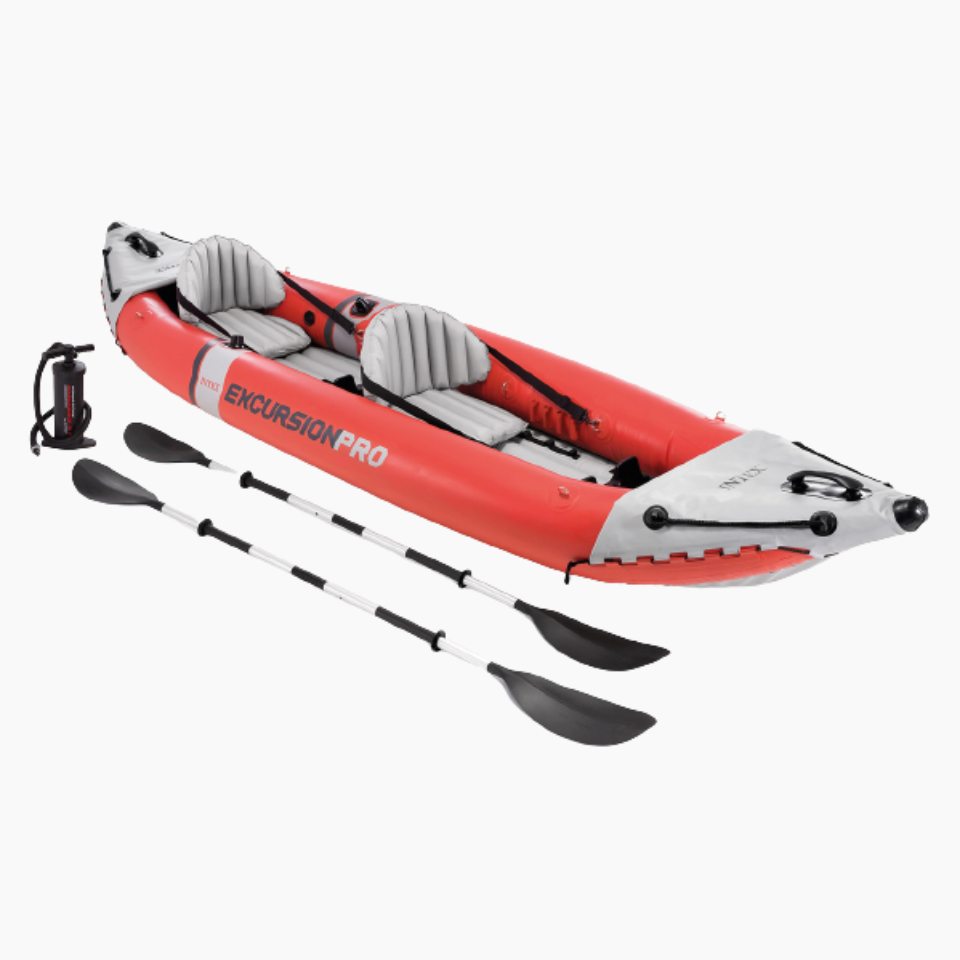 Intex Excursion Pro K2 Inflatable Kayak Specifications
| | |
| --- | --- |
| Length: | 384cm |
| Width: | 94cm |
| Weight: | 17kg |
| Maximum Load: | 180kg |
| Pressure: | 1.16 PSI |
| Number of Paddlers: | 2 |
| Material: | PVC Coated Polyester Fabric |
What do the paddling experts think?
Tracks well, tracks straight. […] From my experience with it so far, out on the water I'm definitely enjoying it.

ColoradoRMN, Kayak Reviewer
When it comes to inflatable kayaks, this is a larger option.
This is because it is actually a 2 person boat, with features making it suitable for fishing excursions also.
Having said that, it is still very portable and reasonably light weight.
With grab handles on the front and back, you won't have any issues whatsoever carrying it between 2 of you.
Even if you are launching and landing alone, you will likely be able to pick it up to carry in the centre without any issues.
It inflates with the double action pump in approximately 15 minutes, including the attachable seats.
Also when it comes to deflating the kayak you won't have any issues.
The pump that is included with your purchase has a deflate feature to help, and you can lock the valve to keep it deflating also.
It may be worth labelling the sides of the pump before you head out though just to make inflating and deflating that much quicker.
A water release valve/drain plug will help ensure that you can get any and all water out before lying it out to dry.
The Excursion Pro comes with a carry bag so transportation is straight forward and easy.
When rolling up the kayak to put it back in the bag, just remember to go from right to left so you're rolling the valves last and air can escape whilst you fold the rest of the kayak.
Of course again this boat is heavier than the K1 Challenger option, but not so much so that you will struggle moving it.
You also get a pressure gauge with the boat which is handy, especially if this is your first inflatable kayak and you want to be sure that you're inflating it correctly.
The gauge does sit at a 90 degree angle though which can make it tricky to read on sunnier days.
You will struggle to find an inflatable kayak with more outfitting, comfort and features.
Not only do you get 2 adjustable and attachable inflatable seats, but also a booster seat to raise it should you need to.
You also get the double action pump and 2 light weight and durable paddles.
A choice of skegs consisting of the regular one, the shark fin one and the shallow water one makes the kayak suitable for a wide range of water conditions.
A couple of D rings on each side of the kayak mean you can secure the seats for maximum comfort.
The 2 footrest attachments maximise comfort even further.
You even have places to attach fishing rod holders, although it appears that they aren't positioned in the best place possible since if there are 2 of you in the boat facing inwards, someone will have the rods in their face.
The accessory bar is useful although can only be fixed in a set place, meaning even though the seats are adjustable that you may be limited in their positioning/your setup.
If you think you will want an inflatable raft that can be used solo or with a friend, then this is the perfect option.
The 3 air chambers makes the kayak safe and very buoyant.
The materials are durable and strong, and a repair kit is included in the event that you do suffer a puncture.
Keep in mind it is still an inflatable boat though, so you won't be able to take it out in as rough and rapid conditions as a hardshell alternative.
The larger design and surface area does make tracking and turning harder than if you were to go paddling in a single person kayak or smaller option, however this is the trade off you make for more capacity.
Keep in mind that if the water is cold, you may notice some effect on the air pressure whilst you're out paddling.
Overall the Excursion Pro is made of higher quality materials than the Explorer and Challenger models, and you will find it tracks and manoeuvres great providing you aren't up against too strong a current or wind.
The deflate feature on the pump makes deflating that much easier after your paddle session.
And the drain plug means that mould and mildew will be less of a concern.
The Excursion Pro seems like an easy one to maintain and care for.
As with any inflatable option, be careful around sharp objects or rocks.
Intex Excursion Pro K2 Pros & Cons
Pros
Maximum comfort thanks to the adjustable seats, seat booster and footrest attachments.
Larger option suitable for solo paddling, 2 person paddling and fishing expeditions.
Great outfitting including double action pump, pressure gauge, carry bag, accessory bar, footrests, seats, paddles and places to attach fishing rod holders.
Choice of skegs for a variety of paddling conditions.
Light weight enough to be carried by a single paddler.
Water release valve/drain plug to help minimise mould and mildew.
Strong and durable materials.
Cons
Wind and currents will effect the tracking and control more given the boats larger surface area.
The fixed positions for the accessories bar and fishing rod holders can limit configuration if 2 people are paddling.
4. Aqua Marina Drop-Stitch Tomahawk Inflatable Kayak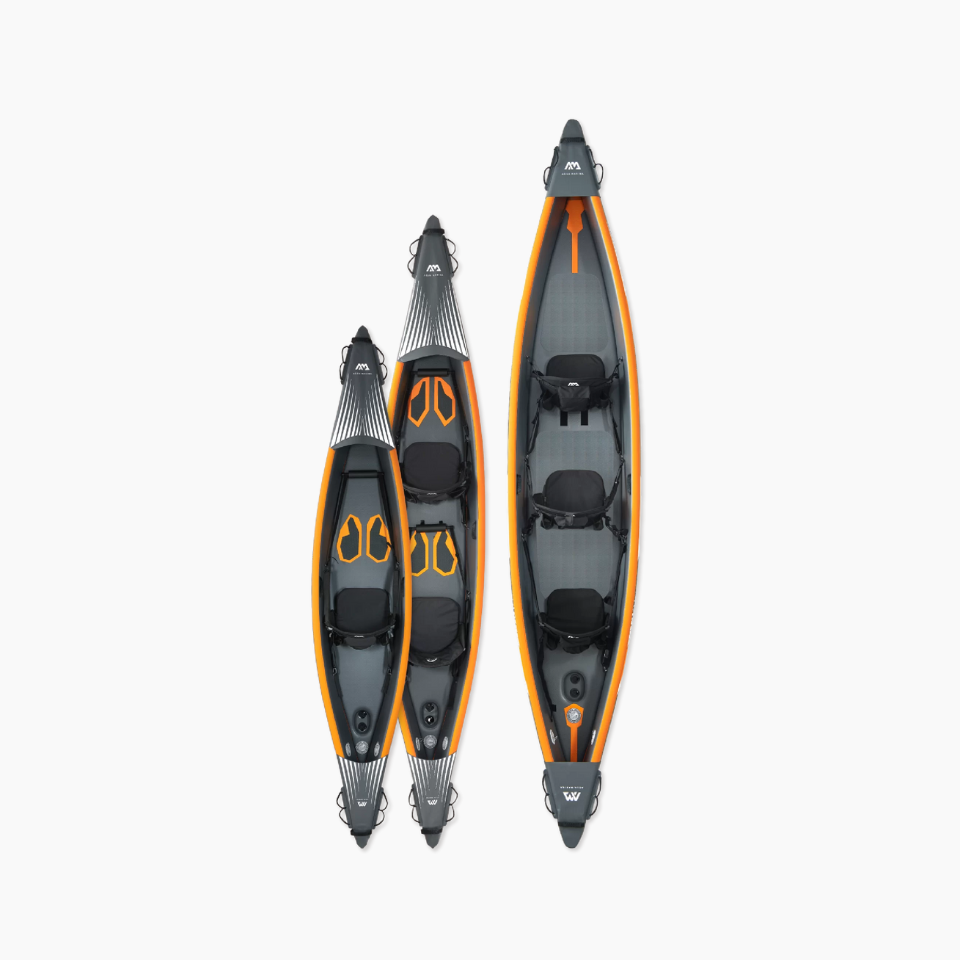 Aqua Marina Drop-Stitch Tomahawk Inflatable Kayak Specifications
| | | | |
| --- | --- | --- | --- |
| Model: | Air-K 12'4″ | Air-K 14'5″ | Air-C 15'8″ |
| Length: | 12'4″/375cm | 14'5″/440cm | 15'8″/478cm |
| Width: | 28″/72cm | 31″/78cm | 35″/88cm |
| Weight: | 36.6 lbs/16.6kg | 44.8 lbs/20.3kg | 54.5 lbs/24.7kg |
| Maximum Load: | 282 lbs/128kg | 462 lbs/210kg | 573 lbs/260kg |
| Maximum Passengers: | 1 | 2 | 3 |
| Drop-Stitch: | 2.8″/7cm | 2.8″/7cm | 2.8″/7cm |
What do the paddling experts think?
Inexpensive for a boat in this class, a dropstitch construction inflatable tandem kayak, you're not going to find a better price.

PaddleTV, Kayak Reviewer
The Tomahawk comes with a sleek and comfortable carry bag which can be worn on the back, great for hiking and multi-day trips.
Grab handles at the front and back make carrying the boat to and from the launch spot easy, especially between two of you.
Even as a solo paddler you won't find the Tomahawk to be the heaviest.
Overall the portability of this raft, partnered with its extreme maneuverability which you'll read more about later on in this piece, makes it an exceptional option for more serious paddlers looking for a boat to use on their more flat water expeditions.
Keep in mind that since this kayak-canoe hybrid features dropstitch material, you will want to invest in an electric pump to go along with it.
Using your electric pump you will be able to inflate the kayak quickly to a comfortable 10 PSI across each of the 3 chambers and be ready to launch.
Adjustable footrests and high back seats ensure that you will remain comfortable even on longer paddling trips.
Even paddlers 6ft tall found the raft to be comfortable as a tandem boat, and if you are using it solo you will have even more room to stretch out.
The seats themselves are padded so very soft and comfortable, even young children out paddling for extended periods of time don't seem to complain about their comfort.
Proper footpegs would take the comfort to 5 stars, but none the less the adjustable footrests do a good enough job for casual touring expeditions.
Out on the water the Tomahawk really comes into its own.
For an inflatable kayak, it can't be beat in terms of tracking and control.
You really do get the comfort and stability of a canoe, but with the speed and control of a kayak.
As an inflatable boat, it is still best suited for flat water paddling.
In choppier waters you do have to accept that there is some increased risk of capsizing simply because of the V shaped bow which makes it better for tracking and speed.
The kayak turns very quickly, even if you are operating it solo.
Just keep in mind that this isn't a kayak that you will sit in and feel the most stable in.
Double fins/skegs is what makes this kayak so great at turning, but they do take some getting used to. The may also snag on rocks and obstacles in shallower water.
To summarise, you're giving up some stability for speed and control that isn't found in most other inflatable kayaks. This is what makes it more suitable for more advanced paddlers.
As with any inflatable kayak, you should ensure that you completely deflate the Tomahawk and dry it properly after every use.
Once packed away in the carry bag, you will be able to store the kayak even in smaller spaces.
The dropstitch material makes longevity less of a concern, and it will likely be one of the most durable inflatable kayaks that you find.
Aqua Marina Tomahawk Pros & Cons
Pros
Great for paddling as a pair or solo.
Comfort of a canoe, performance of a kayak.
Not complicated to put together and launch.
V-shaped hull for tracking and speed.
Thick waterproof seats included.
Great price for the speed and performance that you get, and considering it is for two paddlers.
Double fins/skegs turn with ease and precision.
Cons
Dropstitch construction means it takes a while to inflate.
As an inflatable boat with less stability that wider options, you are at some risk of flipping if you're in choppier waters.
Double fins take some getting used to.
Footpegs would have been better than footrests.
Best Inflatable Kayak for White Water
5. Airhead Montana Inflatable Kayak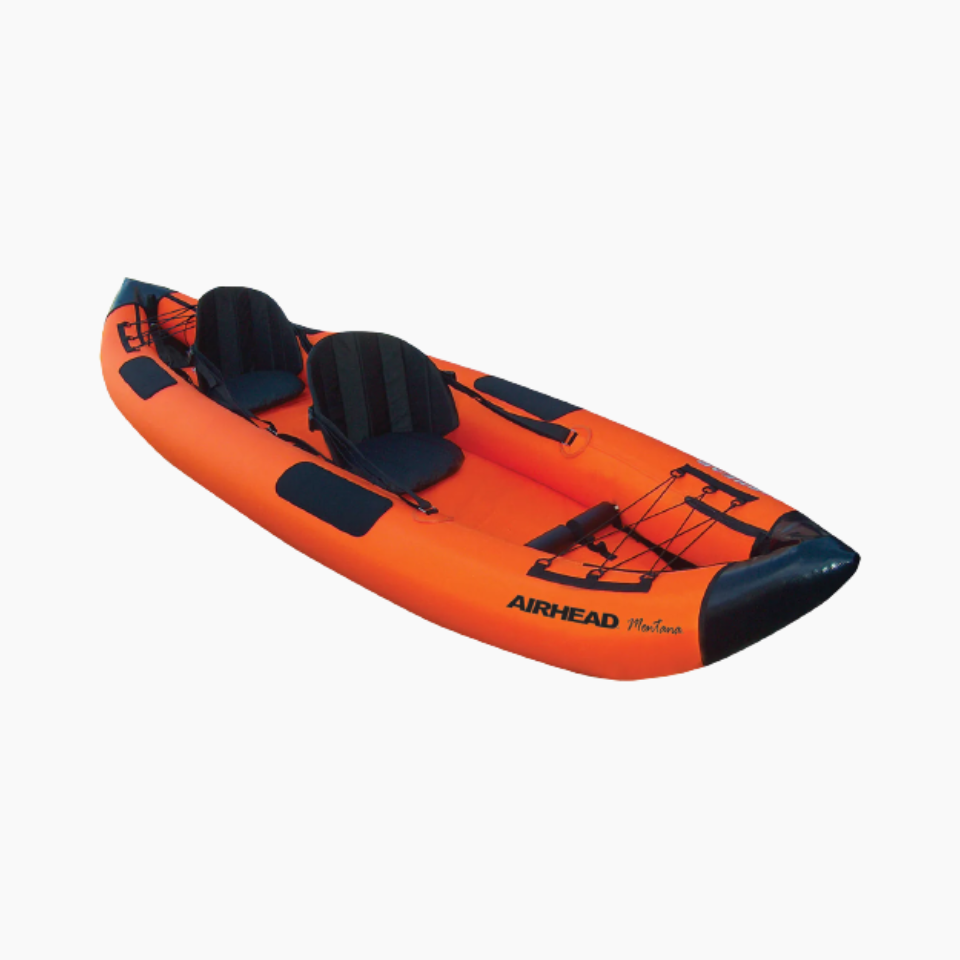 Airhead Montana Inflatable Kayak Specifications
| | |
| --- | --- |
| Length: | 12 inches |
| Weight: | 36.3 lbs |
| Number of Paddlers: | 2 |
| Material: | Nylon (with UV water-resistant coating) |
| Maximum Load: | 300 lbs |
What do the paddling experts think?
I have taken this boat out seven times, and I have never felt uncomfortable.

You can do it!' Kayak Reviewer
Out of the box the Airhead Montana is slightly on the heavier side, however once you get it inflated you will find it easy and convenient to move.
An adjustable carry bag sits nicely over your shoulder.
This is not my preferred style of carry bag.
Personally I prefer a backpack style, although granted this isn't the ideal design if you want to go on multi day paddling trips carrying your own camping backpack, in which case the Airhead bag is ideal.
A grab handle on one side of the raft makes moving it to the launch position and landing easy.
The floor drain helps with drying the boat, and inflating or deflating is straight forward enough.
Finally the removable floor is good for cleaning, and separates it from the main floor.
Should a small amount of water splash in to the kayak whilst you're out, you won't have to sit uncomfortably in the water.
The only reason this kayak didn't get 5 out of 5 stars for the outfitting and comfort is because some reviewers have commented that they weren't able to get the seat into the middle of the raft whilst paddling solo (some say they even tried to do so for hours with no success).
This could make a huge difference to your experience out on the water, especially if you are on rapids which need to maximum level of control and comfort so you can focus on navigating them safely.
However, the Airhead Montana is incredibly comfortable.
Some claim that they have never been uncomfortable using it even after multiple multi-day padding trips over the course of a year.
I have taken this boat out seven times, and I have never felt uncomfortable.
The removable floor mentioned above ties in directly with the comfort of the inflatable kayak.
Good footrests are a nice touch and will keep you comfortable whilst out on the water.
One minor reported negative is that the black cover on the front of the kayak can tear if not handled correctly.
The Airhead Montana is a beast out on the water.
It is exceptionally rare to find an inflatable kayak that will handle moderate whitewater like this.
You will find you have good control of the raft solo or as a pair.
Tracking and manoeuvrability is good, in part thanks to the keel at the bottom and permanent fin at the back. This is said to be consistent across lakes and rivers.
Overall a very fun boat to paddle in, and a superb option for intermediate paddlers.
Keep in mind that this inflatable option is not self bailing.
The Airhead is durable and strong.
It stood up with ease to many reported multi-day hiking and paddling trips.
Everything about it from the floor drain to the removable floor makes it easy to maintain the kayak and keep it in good condition.
It is well constructed and, providing you clean and dry it properly after each use, will provide exceptional performance for an unbeatable price.
Airhead Montana Pros & Cons
Pros
Handles moderate whitewater rapids like a boss!
Durable and well made.
Adjustable seats, partnered with the footrests, means the inflatable kayak is very comfortable.
Good tracking and control.
Great intermediate raft.
A removable floor is good for cleaning and drying, also for comfort.
Cons
Carry bag has an over-the-shoulder strap which in my opinion isn't the most comfortable style.
Heavy out the box, although less so out on the water.
Reviewers could not position the seat in the middle of the kayak when paddling solo.
The kayak is not self bailing which makes it less ideal for flatter waters. As a whitewater option, this will matter less.
6. Aqua Marina Steam Inflatable Kayak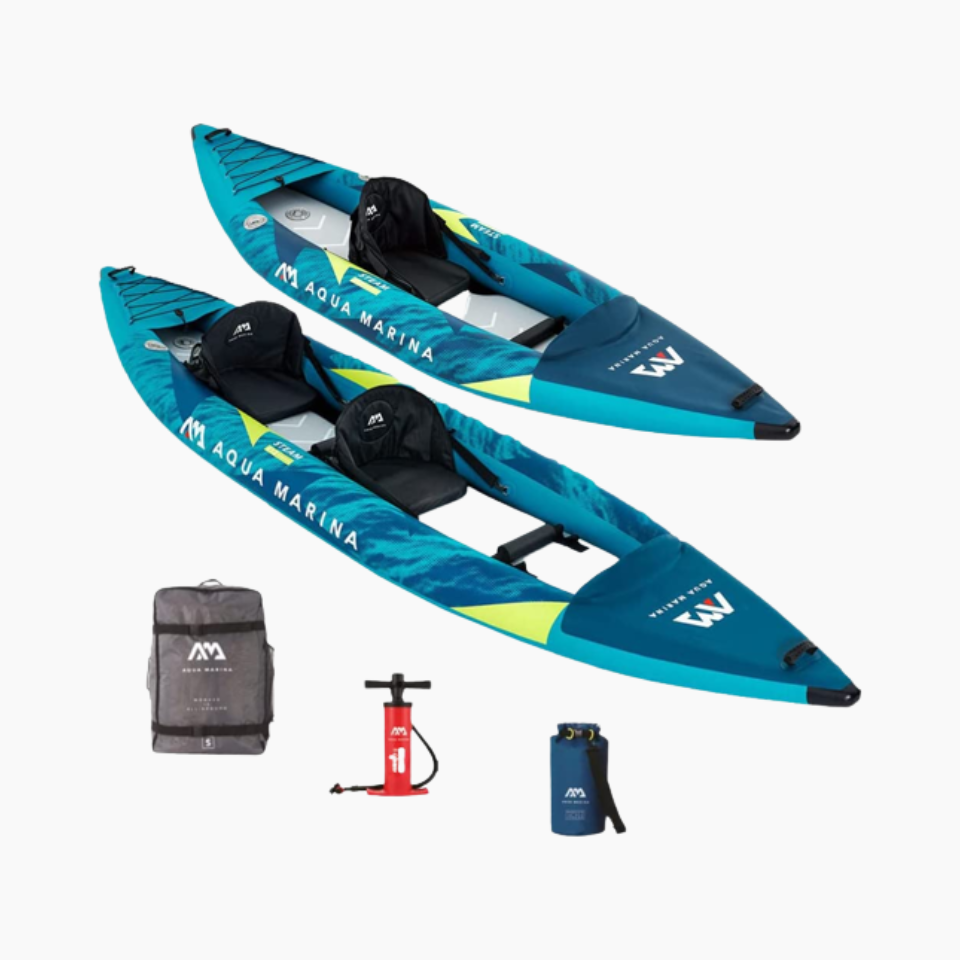 Aqua Marina Steam Inflatable Kayak Specifications
| | | |
| --- | --- | --- |
| Model: | Steam 10'3″ | Steam 13'6″ |
| Length: | 10'3″ / 312cm | 13'6″ / 412cm |
| Width: | 35″ / 90cm | 35″ / 90cm |
| Weight: | 25.4lbs / 11.5kg | 34.2lbs / 15.5kg |
| Maximum Load: | 242lbs / 110kg | 396 lbs / 180 kg |
| Maximum Passengers: | 1 | 2 |
What do the paddling experts think?
The seat is very comfortable, and it is the main difference compared to the Betta (other Aqua Marina inflatable kayak model).

John B, Kayak Reviewer
Side grab handles, quality carry bag and a portable hand pump makes this inflatable kayak a great option for paddlers on the go who don't want to invest in a roof rack.
It will take you around 10 minutes to inflate, as is the case for most inflatable kayaks.
However seeing as this raft has a drop-stitch build, 10 minutes inflation time is brilliant.
One thing to note is that some reviewers comment that the pump can slip out of the valve if you are using the barometer.
You can also pack the raft away in approximately 10 minutes, quick and easy after a long day spent out on the water.
As we have already mentioned, paddlers using the Steam often comment on how comfortable the seat is.
Also the seat(s) included with the Steam inflatable kayak have side pockets which other Aqua Marina models like the Betta does not.
The Steam doesn't come with a paddle, which is why we didn't rate the outfitting as 5 out of 5.
As an inflatable option, the Steam has been said to wobble a bit which can effect comfort, however this is a small trade off for not needing to transport a hardshell raft with you everywhere that you go.
You will also want to get yourself a personal floatation device (PFD) before heading out on the water.
This raft is stable on lakes, rivers and even class 3 rapids.
The keel for directional stability is a nice touch, and is meant to raise the front out of the water.
Some have mentioned that if you are near the max capacity of the raft, the boat may sit quite low in the water.
Being another boat that features drop-stitch technology means that this kayak is strong, rigid and durable.
You will find outlets to drain the water out of the kayak after a day out on the water, making drying it properly that much easier.
Aqua Marina Steam Pros & Cons
Pros
Quality drop-stitch technology means that this raft is strong and durable.
Quick to inflate and deflate (approx. 10 minutes).
Exceptionally comfortable.
Stable on rivers, lakes and even class 3 rapids.
Cons
Does not come with a paddle.
Pump can come out of the valve if you are using your barometer.
Some have commented that it can be a bit wobbly.
7. Aquatec Ottawa Inflatable Kayak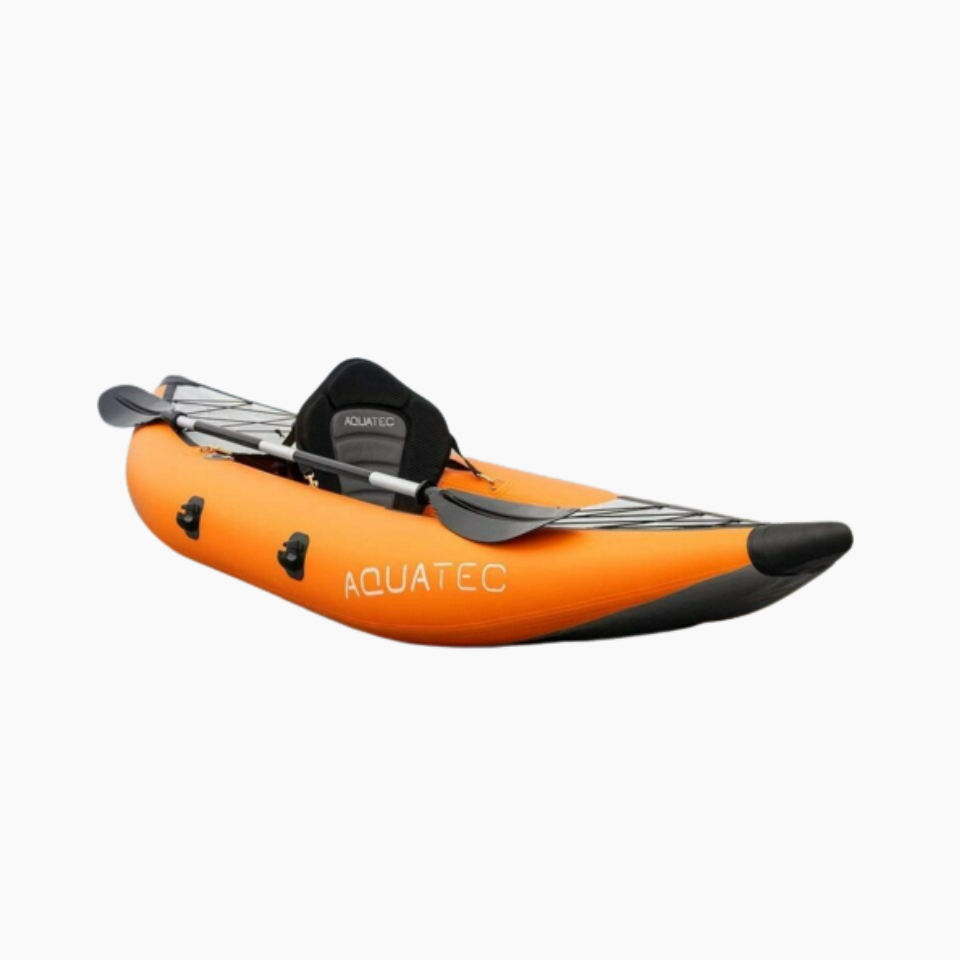 Aquatec Ottawa Inflatable Kayak Specifications
| | | |
| --- | --- | --- |
| Number of Paddlers: | 1 | 2 |
| Size: | 300cm x 90cm x 25cm | 420cm x 60cm x 25cm |
| Weight: | 12kg | 17kg |
| Maximum Load: | 130kg | 170kg |
What do the paddling experts think?
We have found the Ottawa to be very stable on the water, even when it has got rough and choppy on the sea. The Ottawa is the most stable solo kayak we have used.

Kayak Crew, Kayak Reviewer
Grab handles at the front and back of the kayak keep it portable, although if you're paddling solo then you'll likely want to hold it in the centre by grabbing the side of the cockpit and resting it on your shoulder as you walk.
A decent double action pump with PSI gauge also makes inflating the raft easy.
The kayak isn't known as the lightest, but it is manageable even for solo paddlers.
Whilst some say that the carry bag is not the best made, the wheels on the bottom are an awesome touch and make transporting the inflatable kayak on multi-day trips that much easier.
It would be nice to see grab handles on the side of the boat to make it easier to carry between 2 paddlers, but this isn't a major drawback.
The Ottawa is decently outfitted, coming with a double action pump, repair kit, paddle and seats.
Some say that the paddle included is actually the best they have received alongside an inflatable kayak.
Whilst the carry bag isn't the highest quality (as mentioned above), it does the job.
The seats are comfortable, although you will likely want to invest in some additional padding if you're out paddling for longer excursions.
The cockpit is roomy and comfortable, and so long as you're under roughly 6ft 5′ you'll have a good amount of room.
For maximum comfort, use the side of the cockpit for added back support and position the carry bag in the footwell to act as a footrest.
The Ottawa is perhaps one of the most stable inflatable kayaks that you will find.
You will feel stable even in choppier sea conditions.
Some even comment that the Ottawa is faster than hardshell alternatives which is practically unheard of when it comes to inflatable boats.
Now, if there is strong wind then you may find that the kayak gets pushed around a bit or drifts, the tracking may be slightly compromised.
The 8 inch skeg really has an impact on the tracking, and for multi-day trips it would be worth keeping a spare one to hand in case yours breaks/gets lost.
A drop-stitch design adds a little weight, but means the raft will stand up to obstacles even in shallower waters (making this a really durable boat!).
The boat is surprisingly compact, so storing it won't be a problem.
The pump can deflate the raft also so taking good care of it by draining it properly after every trip is that much easier. The drain well in the floor also helps.
Overall the Ottawa is a really durable kayak.
If you are hoping to take up kayaking as a social hobby, go with the tandem option.
Aquatec Ottawa Pros & Cons
Pros
Very stable, even in rougher sea conditions and choppier waters.
Incredibly fast, some say even quicker than hardshell alternatives.
Comfortable and roomy for those under roughly 6ft and 5 inches.
Brilliant durability, even in shallow water conditions.
Useful carry bag with wheels on the bottom.
Easy and stable to launch and land.
Cons
Tandem boat is likely too big to use solo by most, unless you have a lot of gear (e.g. are using it as a fishing kayak).
Drop-stitch technology makes it a little on the heavy side.
You will lose some tracking and control in strong winds.
Some say that the carry bag is not the most well made.
8. Hydro Force Lite Rapid X2 Inflatable Kayak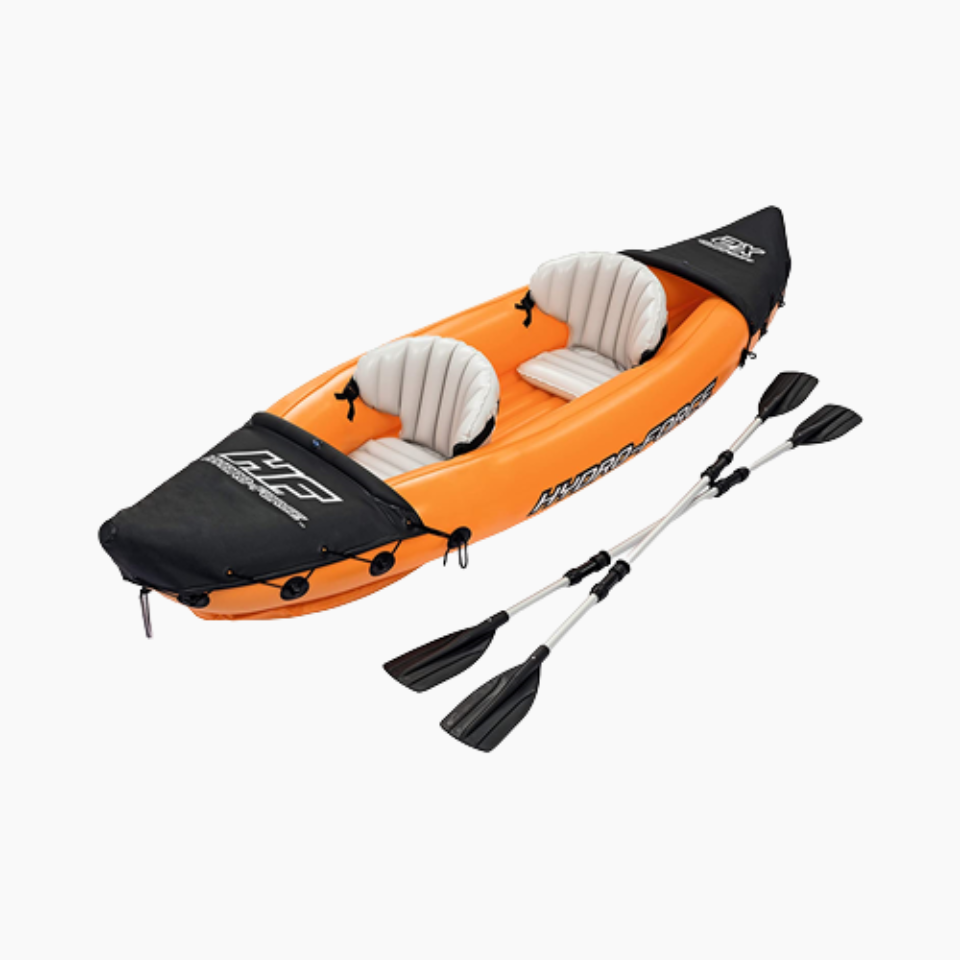 Hydro Force Lite Rapid X2 Inflatable Kayak Specifications
| | |
| --- | --- |
| Length: | 321cm |
| Width: | 88cm |
| Maximum Load: | 350lbs |
| Maximum Passengers: | 2 |
What do the paddling experts think?
I highly recommend it, definitely for calmer waters. I wouldn't probably take this out on anything too rough at all. But certainly in the water on very calm flat beaches, it is brilliant.

Trevs Treks, Kayak Reviewer
The Hydro Force Lite is about as lightweight and portable as they come.
Really convenient for a tandem kayak and especially good for beginner paddlers who are looking for an inexpensive option to get their start out on the water.
However please note that the Hydro Force does not always come with a pump.
Making sure that you have a pump to hand where and when you intend to paddle is vital.
You know what you get with this inflatable kayak, an inexpensive boat and some average paddles.
Of course the paddlers provided aren't going to be as good as some of the more expensive options available, but those buying this kayak are unlikely to need such robust and advanced paddles any way.
The seats aren't fancy either, but they do the job and paddlers aren't complaining about them (once they've worked out how to clip them in properly which some say can require some trial and error).
The Hydro Force is not the fastest inflatable kayak going, but it is still enjoyable to paddle.
This is not a suitable option for advanced paddlers, since it is best suited for calm and flat waters.
You wouldn't want to find yourself in any fast currents, rapids or rough sea conditions in this raft.
However, for beginners looking to paddle out into calm waters, it is perfect.
As mentioned above, this boat is beginner friendly and this goes for the maintenance as well.
As long as you drain and dry it properly after each use, it should last a good amount of time considering the price.
However keep in mind that this is not going to be the strongest kayak that you ever own.
Be forgiving in the conditions that you take it out in.
Based on the price alone, I wouldn't expect this boat to last you a lifetime (nor should it need to for you to get your money's worth!).
Hydro Force Lite Rapid X2 Pros & Cons
Pros
Very affordable.
Beginner friendly.
Comfortable enough for recreational paddling.
Supplied with 2 paddles.
Very stable (in the right water and weather conditions).
Tracks well and easy to control/manoeuvre.
Cons
Does not always come with a pump.
Not going to be the most durable kayak that you ever own.
Really only suitable for flat and calm waters/weather conditions.
Not the fastest inflatable kayak available.
9. Tahe Breeze Inflatable Canoe & Kayak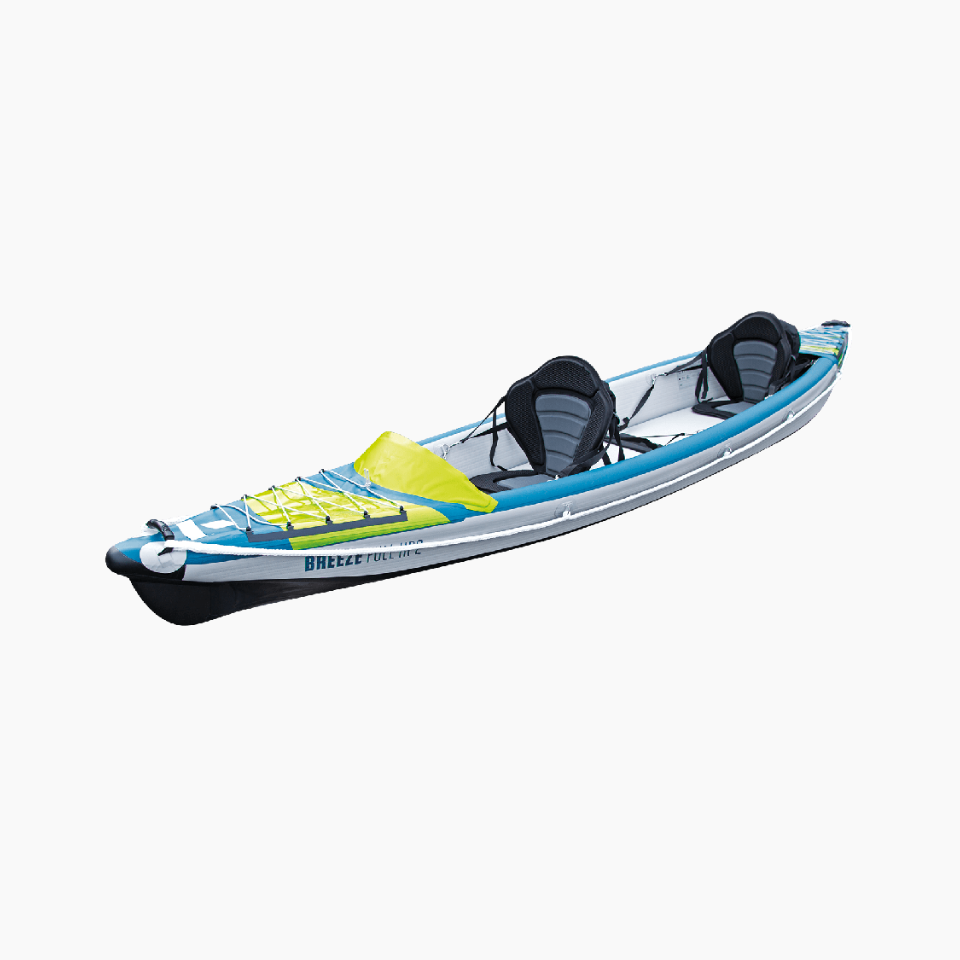 Tahe Breeze Inflatable Canoe & Kayak Specifications
| | |
| --- | --- |
| Length: | 410cm |
| Width: | 85cm |
| Weight: | 34 lbs |
| Maximum Load: | 465 lbs |
| Maximum Passengers: | 2 |
| Recommended PSI: | 8 PSI |
What do the paddling experts think?
Super stable […] easily manoeuvrable.

Kayak Reviewer
The easy-to-use hand pump, and compact carry bag, makes the Tahe Breeze a good portable option. In fact you can get the Tahe inflated in just 8 minutes!
However some have commented that the carry bag isn't the best made nor is it the most comfortable. Keep this in mind if multi-day hiking trips are more your scene.
A lot of thought clearly went in to the design to keep it lightweight, which makes it suitable for those longer day paddle sessions that may be broken up by periods of walking.
The skeg, pump, 2 seats, footrests and repair kit means you can get going quickly once your kayak arrives.
The Tahe Breeze does not come with any paddles though, which is why we only rated the outfitting as 4 stars.
The seats are known to be very comfortable though, and the clever design means the back one can have some added support from the cockpit wall.
The Tahe is best for intermediate paddlers who want a recreational boat.
In terms of paddle performance and stability (primary and secondary stability) this boat really comes into its own.
The attachable skeg means it tracks great, whilst keeping it manoeuvrable.
A longer and thinner design means that you will be able to pick up more speed however beginners may struggle to find their balance initially.
The Tahe has self-bailing technology which makes cleaning and maintenance significantly easier.
This kayak is another one with drop-stitch technology, meaning it is also durable. Keep in mind that this does make it a bit heavier than it otherwise would be.
Tahe Breeze Pros & Cons
Pros
Comfortable seats, especially for the back paddler.
Super stable.
Longer and narrower design makes building up speed easier.
Double action hand pumps makes inflating the kayak quick and easy.
Attachable fin makes turning and tracking easy.
Cons
Does not come with any paddles.
Drop-stitch technology means it is on the heavier side.
The carry bag is not the best made.
10. Sevylor Tahiti Plus Inflatable Kayak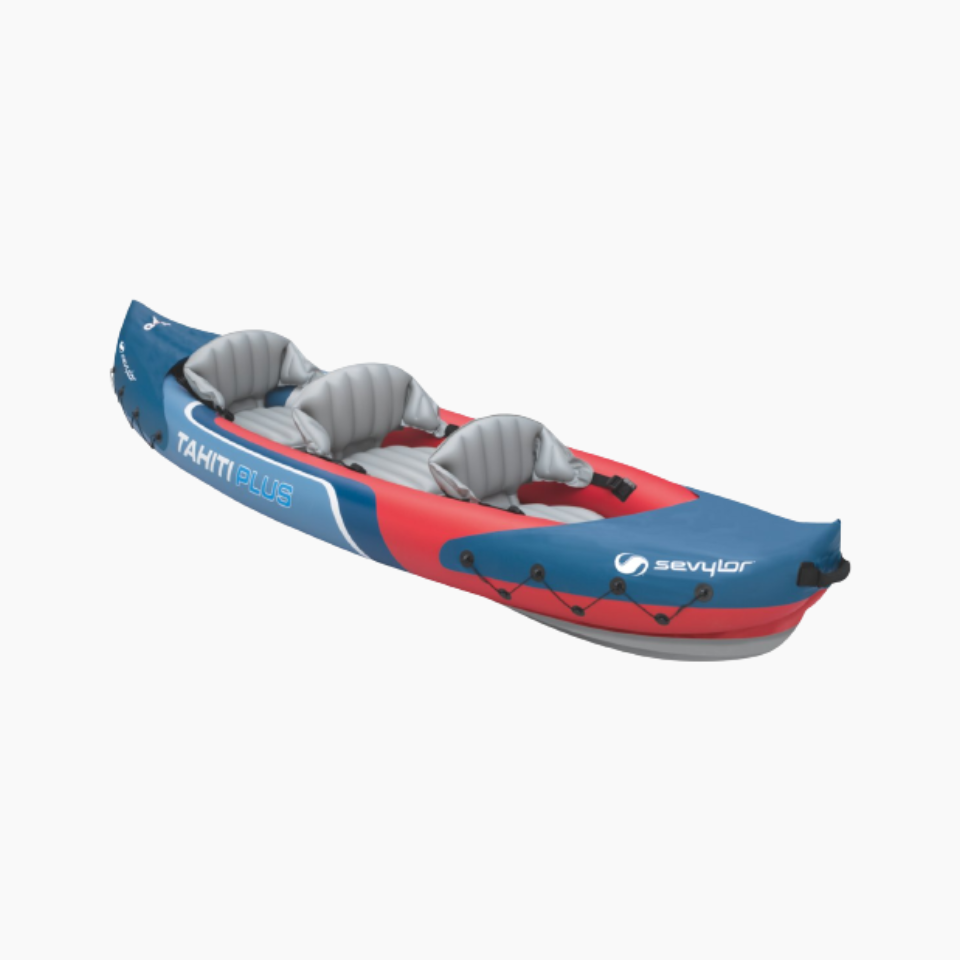 Sevylor Tahiti Plus Inflatable Kayak Specifications
| | |
| --- | --- |
| Length: | 361cm |
| Width: | 90cm |
| Weight: | 11.7kg |
| Maximum Load: | 200kg |
| Maximum Passengers: | 3 |
What do the paddling experts think?
The boat was awesome. Really really really took those waves well.

Outdoors Boy, Kayak Reviewer
The reviewers don't find this inflatable kayak to be the most portable one going.
Many look to buy a carry bag since the Sevylor does not come with one.
However, it does roll up very compactly (which isn't the case with many other inflatable kayaks) and has adjustable straps that mean the kayak can be carried straight on your back.
At 13kg most will be able to move the kayak with ease.
The first thing to note about the outfitting and comfort are the integrated spray decks at the bow and stern. These will keep your gear dry should you position them under the material, making the kayak a great option for family paddlers and even light fishing expeditions (on flat and calm water).
Comfort wise the Sevylor Tahiti does a good job, although some find that it lacks back support (making it less ideal for long distance paddling).
The kayaks stability also adds to the comfort you'll have out on the water, and if you don't mind sitting a little lower on the water you will enjoy it even more.
A pump with pressure gauge is also included.
For an inflatable kayak, the Sevylor Tahiti is plenty fast.
It also offers good tracking, stability and control.
Although it will be effected by the wind and rougher sea conditions. Bigger waves will turn it considerably and put you at risk of capsizing.
Some reviews find that it fills up with water fairly easily, likely because it sits so low in the water.
As a beginners kayak, the Sevylor Tahiti is first class.
Although more intermediate and advanced paddlers may wish to look at hardshell alternatives or more expensive inflatable options.
You will find inflating and deflating the kayak quick and straight forward.
Getting the seats on and off, and adjusted for your comfort, is also easy.
However since this kayak does not come with a carry bag, keeping it in pristine condition will be difficult.
I would recommend that you invest in a sizable carry bag to store it in, even if only between your paddling sessions.
Overall the Sevylor Tahiti is known to be extremely durable, with some paddlers loving using it for many years.
Sevylor Tahiti Plus Pros & Cons
Pros
Stable when launching and landing.
Extremely durable.
Integrated spray decks on the bow and stern keep gear dry, good for kayak fishing.
Reasonably quick and good tracking.
Lightweight and able to transport it directly on your back.
Great beginners inflatable kayak.
Cons
Will be moved and turned, with an increased risk of capsizing, by bigger waves.
Not the best option for intermediate or advanced paddlers.
Does not come with a carry bag, making it less easy to keep in pristine condition.
Sits low in the water, which increases the risk of water creeping in.
Some find the back support offered by the chairs to be lacking.
The Inflatable Kayak Buying Guide
Before we dive in to the top 10 inflatable kayak options, let's first discuss a few options and find out if an inflatable raft if the right one for you.
Inflatable Kayaks Vs Hard Shelled Ones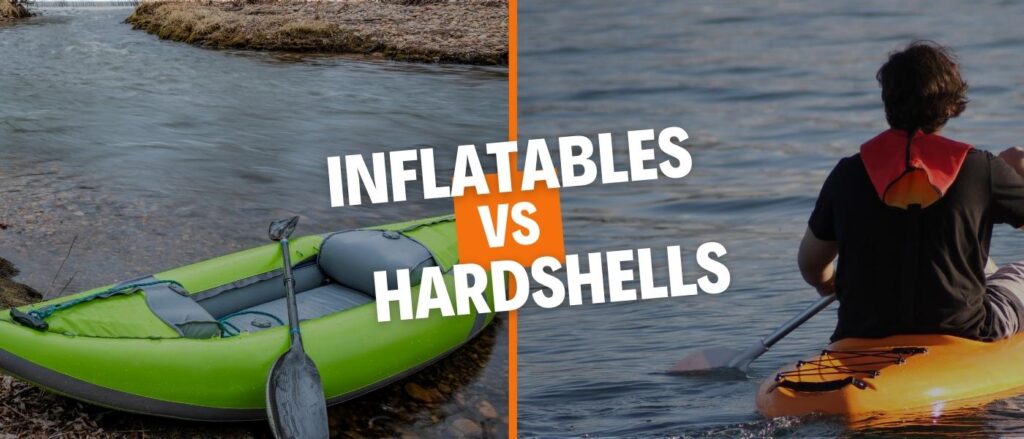 By now you are probably well aware that inflatable boats are a lot lighter and more portable than their plastic, acrylic or otherwise hard shelled counterparts.
They can be stored conveniently in the car boot (removing the need for a transporter van or fiddly roof rack) and, assuming you have a working kayak pump with you, be inflated right new to wherever you intend to launch from.
Just be careful not to inflate it on any sharp or too rough ground to prevent unnecessary wear and tear.
Many inflatable kayaks are also a lot cheaper than other options, making them perfect for families and/or beginners.
With all that being said, for beginners, families and/or those on a budget looking for a general-use raft, an inflatable kayak will serve you well.
Are There Any Disadvantages to Buying an Inflatable Kayak?
Yes.
There are disadvantages with any kayak, given the huge range of options and uses that you will find.
We have listed some of the negatives with going with an inflatable option below.
Disadvantages of Inflatable Kayaks
Less control and more easily effected by external factors such as the wind/weather, current and in-water obstacles.
Inflating the kayak takes time, and some might find it tiring if a foot pump is used. You can't launch right away.
Mould may be an issue if you don't dry the kayak out properly every time.
You are limited in the types of water that you can paddle in (for the most part whitewater rapids and even rougher sea conditions are a no-go).
Some inflatable options can actually cost more than a similar hardshell alternative (make sure that you shop around!).
The majority of inflatable kayaks are not compatible with most spray skirts. You are more likely to get wet whilst out paddling.
Inflatable kayaks are notoriously annoying to carry out of the water, often requiring two to carry comfortably.
Not all inflatable rafts will drain water when it gets in the cockpit.
They can tear and pop (although this is rare if you take good care of your kayak).
Keep in mind that once you start thinking about going out in more extreme conditions and currents, you will need to invest in a hardshell boat.
Who Should Buy an Inflatable Kayak?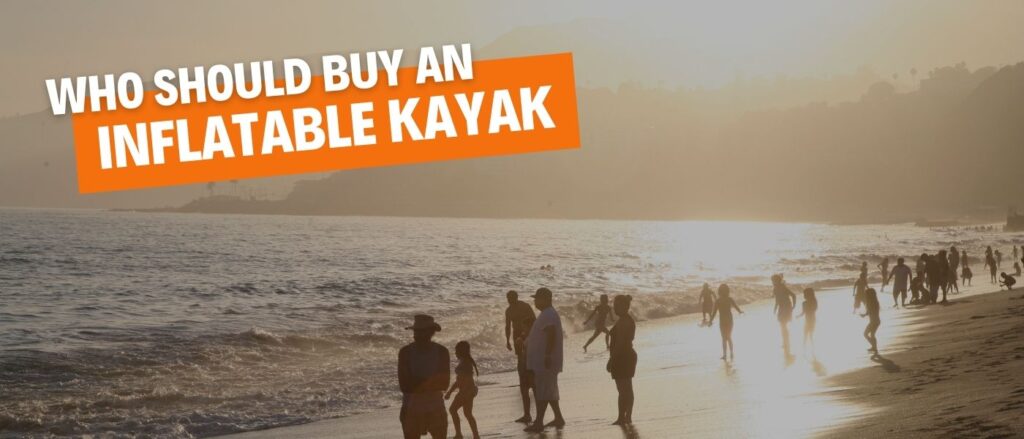 Many advanced paddlers started out on an inflatable kayak, and many even keep one around in case they want a more casual day out on the water (or in case friends/family want to join them paddling who aren't as confident).
Still, inflatable options are better suited to some than others.
An Inflatable Kayak is Perfect if You:
Live in an apartment or small space (or if you are limited on storage space).
Only have upstairs storage space.
Your car will not fit or accommodate a hardshell kayak (and/or you don't want to get a kayak roof rack).
You are a smaller or younger paddler who doesn't want to invest in or use a kayak cart when launching the raft.
You are just dipping your toes in or new to the world of paddle sports.
You will be paddling on calmer, flatter water (at least initially) and are less interested in rapids, heavy currents and choppy sea conditions.
What Type of Paddling Are Inflatable Kayaks Good For?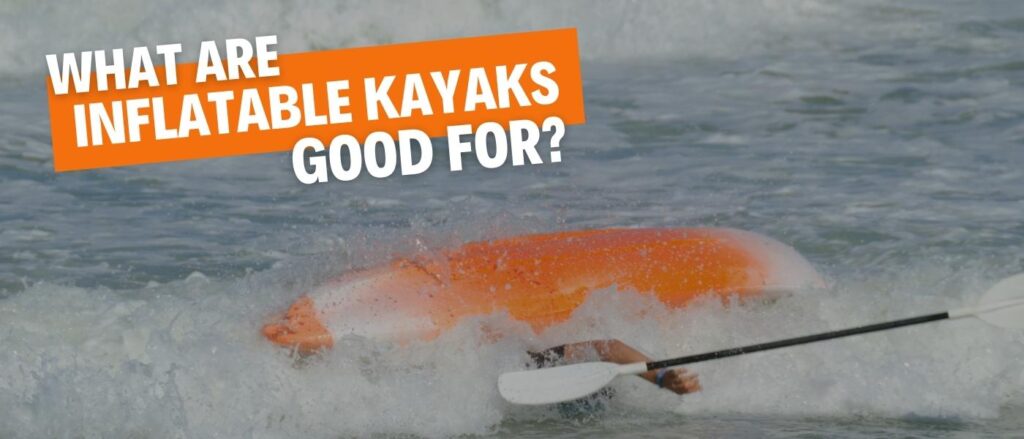 Inflatable kayaks are great all-rounders, so it may be better to focus instead on what they can't be used for.
Inflatable kayaks are not suitable for whitewater and strong waves. So if you are looking to venture out in such waters, you should shop around for a hard shelled option.
If however you fancy trying your hand at paddling and want to enjoy some gentle lake touring or the odd adventure out on a calm sea, then an inflatable kayak will be perfect.
Also, if you plan on heading off on multi-day paddling trips then you may want to consider a hard shell option which you won't have to re-inflate every day.
Must Have

Inflatable Kayak Features

We all want to buy a kayak packed full of cool features and outfitting, but what ones are a must have for an inflatable kayak? Find out below.
Kayak Stability
If you are looking for stability then you are in luck with an inflatable kayak.
Being beginner friendly, partnered with the fact that they are generally used on calmer waters anyway, mean that they are considered very stable.
However keep in mind that these are offering mainly primary stability. They are great and incredibly stable in calm waters, but lack secondary stability so are much easier capsized in rougher waters.
If you really want to maximise stability, make sure you go with a wider option since these have more surface area on the water which prevents side to side tipping. Kayaks with a wide beam (the width at the widest part of your kayak) are well regarded as some of the most stable available.
You should read up on displacement (specifically width and length displacement) to find out more about why the length and width of your kayak will influence how stable it it.
If stability is important to you then you should consider one of the wider versions of inflatable kayak. They are all built to be stable but broader bottoms will make you feel more secure especially if you have difficulty getting in and out.
Finally, inflatable kayaks are incredibly buoyant, which also makes the more stable.
Kayak Inflation & Deflation
Being quick to inflate is a hugely positive feature for any inflatable kayak to have.
Read the manufacturers documents on any boat you want to buy and check how long it will take to inflate.
Some inflatables will be ready to go within as little as 3 minutes, whereas others can take up to 30 minutes depending on how it is being inflated. Even though most inflatable kayaks will take between 3 and 4 PSI in air pressure, they can vary greatly in the amount of time that they take to inflate and deflate.
Material
PVC (Polyvinyl Chloride), Hypalon, Nitrylon and Pennel Orca, what do they all mean?
Well, they are all popular materials that inflatable kayaks are made of.
Each has their own pros and cons but generally most inflatable kayaks are made from PVC since the material is widely regarded as affordable, strong and durable.
However PVC is not chemical resistant so, even though it can be repaired quite easily, it needs to be protected from any potentially harsh chemicals and conditions.
Pennel Orca on the other hand is more resistant to chemicals and UV rays, however is often more expensive. If you are going to be using your inflatable kayak regularly then you will likely be better off going with the more expensive but more resistant material.
Nitrylon is eco-friendly and durable but weighs considerably more than other options which isn't ideal for anything floating on the water. It is stronger and easier to patch than PVC, so great for areas which are going to be put through a lot of wear and tear, however isn't really suitable to be used on a whole boat given its weight.
Hypalon is a patented DuPont material, known to be very chemical and temperature resistant. It is one of the most common inflatable kayak materials alongside PVC. However like Nitrylon it is fairly expensive.
In my opinion you are best going with either a PVC or Hypalon inflatable kayak if you are looking for a recreational raft that you will get a lot of fun and enjoyment out of without breaking the bank.
Manufacturing & Brand
You shouldn't buy a kayak without doing at least some research on the brand producing it. Make sure they're well reviewed and respected in the industry, and also meeting any and all legal/regulatory conditions that they should be.
Then also think about the actual manufacturing methods used to make the inflatable kayaks that you are considering.
For example, boats which use drop stitch technology (especially woven drop stitch) are preferable since they are strong but also lightweight.
Warranty
Quickly check the warranty offered on any kayak that you buy.
The respected kayak brands have amazing consistency in the quality of their products, but there is always the odd one which doesn't meet the normal standards. You want to be sure that you are covered if your new inflatable kayak falls short of what the manufacturer promised.
Weight & Size
This ties in with stability, but you also need to consider how this effects the portability of your kayak.
Bigger and heavier kayaks are harder to transport and can be frustrating to get in and out of the water.
This tends to be more of an issue with inflatable kayaks anyway, and you will find them to be heavier and harder to carry then their hard shell counterparts.
Price
This is an easy one and everyone wants to find themselves the best deal.
However, price shouldn't be the driving force in your inflatable kayak selection.
Any inflatable kayak is going to set you back at least a couple of hundred Great British Pounds (GBP), and you want to get a few good years of use out of them providing you take good care of them.
If you determine that you need a more expensive kayak which has more features, outfitting and durability, then you may be better off keeping an eye out for a second hand option in good condition than going with a cheaper new version.
Remember the old saying, if you buy cheap you buy twice!
How Much Does an Inflatable Kayak Cost?
This is a simple question without a simple answer.
The prices of inflatable kayaks varies greatly depending on what brand kayak you are buying, what outfitting is included with your purchase, what the kayak is made out of, how big or small it is, the volume it can hold and even the time of year that you are making your purchase.
Most beginners inflatable kayaks will cost you between £150 and £300, whereas more durable recreational models will set you back between £300 and £500. On the higher end you will find advanced paddlers spending upwards of £500, often considerably more and into the thousands, for the top end boats.
Remember to check out the second hand market if you are looking for a more premium quality kayak but are on a tighter budget.
Do I Need a License to Paddle My Inflatable Kayak?
This depends on where you are paddling.
If you are kayaking on waterways in England or Wales, then you might need a license (although this is not the case on all UK waterways).
Check online before you set off on your trip and make sure that you have any licenses if needed.
Kayaking on the sea however is free of charge, and I'd recommend you venture out in beaches which are both lifeguarded and allow kayaks (not every beach does).
Inflatable Kayak Safety
There are several key things that you can do to make sure that you are keeping safe whilst out kayaking:
Always wear a lifejacket.
Let someone know that you are going out, where you are going and how long you expect to be out for.
Keep a charged mobile phone in your dry bag or in the kayak at the very least.
If you are paddling with a canine companion, make sure that your dog is also wearing a lifejacket.
Make sure that your kayak is properly inflated before you venture out on the water.
Do not exceed the weight and volume capacity of the kayak.
If the water is cold, make sure you're dressed appropriately in case you capsize (potentially wearing a wetsuit even if you don't plan on getting in the water).
Are Inflatable Kayaks Safe?
Yes. Inflatable kayaks are incredibly safe providing they are operated and maintained correctly, and you only paddle in safe water conditions. Stay out of fast flowing water and rough sea conditions, and always wear a lifejacket.
What has been updated?
We updated this page on the 13th of January 2023. We changed several links to point to better product pages.