Introduction
Back in the day the only choice you really had to decide on when it came to a helmet was the colour, as the choices available to paddlers was sparse, to say the least.
Most helmets were 'borrowed' from other sports, ice hockey, skydiving, even customised motorcycle helmets were used.
Then came the emergence of freestyle paddling and the age of the 'custom lid'.
Usually knocked up in someone's garage using exotic materials (glassfibre), you just weren't cool unless you were sporting a glittering, multicoloured lid with a high pose rating.
These looked great, but offered little in the way of real protection out on the rivers.
These days 'off the shelf' lids have advanced beyond measure and there's now a dizzying array of lids awaiting you on the racks of your nearest canoe shop.
Helmets now come in all shapes, sizes and price ranges many manage to combine great looks and styling with an impressive amount of protection and safety features.
To help you find the 'bone dome' that best suits your needs and pocket we've put 10 of the leading models in each price bracket through the CKUK Test Team wringer to compare value for money, comfort looks and most important of all protection.
The 10 Best Kayak Helmets
Best Kayak Helmets Under £30
1. Shred Ready AHM Kayak Helmet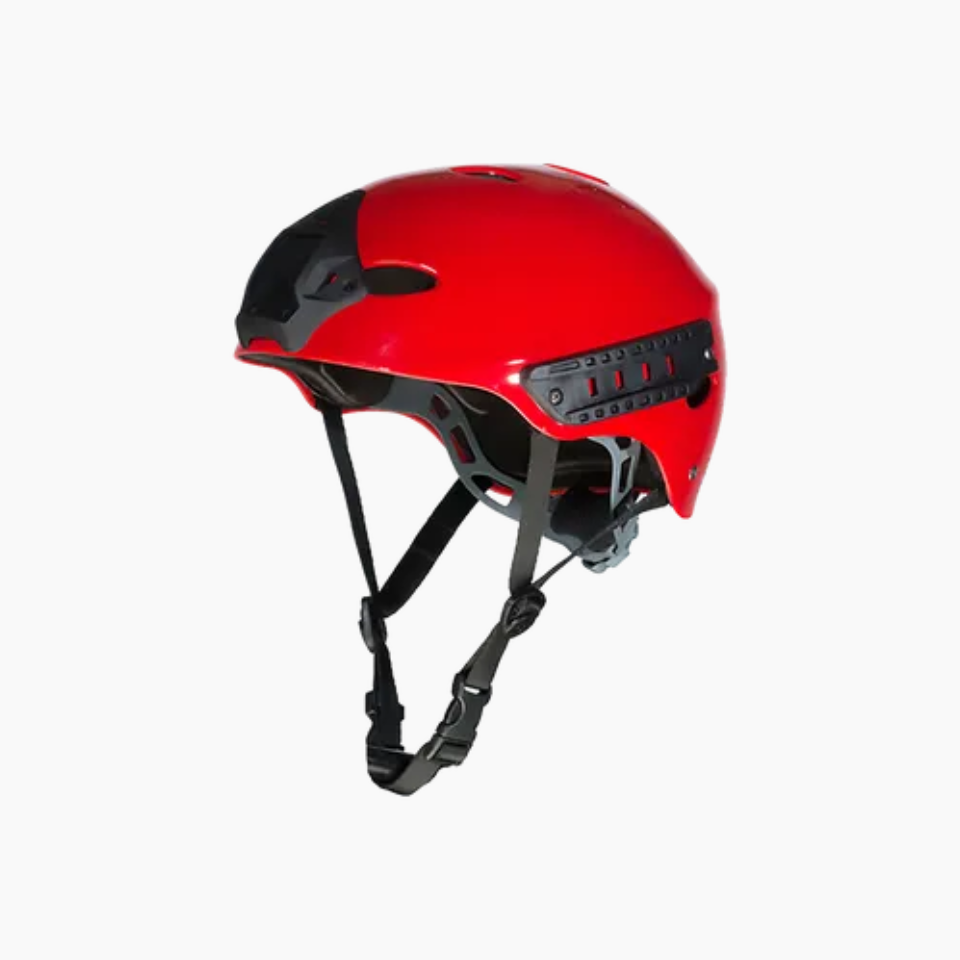 The AHM was designed as an inexpensive entry-level helmet for rafting, canoeing and kayaking and other water-sports.
The AHM has a hard ABS abrasion resistant side-cut shell with an easily adjustable four-point retention system to keep the helmet firmly in place.
Soft-tubed nylon keeps the helmet secure without any chafing or abrasion, and removable earflaps give added protection id required.
The AHM offers great comfort and the finish and attention to detail on this lid belies its very competitive price.
The adjustable retention system was easy to use while the helmet was on and once adjusted gave a secure, snug fit.
Sizes come colour coded for easy recognition when used in centres, or canoe clubs.
For the Test Team it was the best 'Centre' style helmet in the test and we were impressed by the coverage and quality for the price, on top of that it looks pretty good on too.
It gets our CKUK Value For Money Award.
2. AP2000 Kayak Helmet
The AP2000 has been a stalwart of centres and canoe clubs for many years now.
It features a full cut outer shell made from high-impact polypropylene for impact protection and an inner adjustable foam cradle system and quick-release chinstrap ensure a secure and comfortable fit.
The AP2000 comes in one size, but the adjustable cradle means that it will fit a wide range of head sizes and it can be adjusted to fit really small heads, making it a good option for junior paddlers.
It offers good all round protection, but its lack of padding means it's not comfortable as most of the other helmets on test, but there's nothing to stop you from adding your own.
Looks wise it's a little on the 'old school' side, but if you want a helmet that offers good protection, will fit a range of head sizes and won't break the bank the AP2000 is probably it.
Best Kayak Helmets Under £50
3. AP6000 Kayak Helmet
The more stylish big brother to the AP2000!
The AP6000 features a side-cut, injection moulded, high-density ABS shell padded out with a water-resistant foam liner and with removable earflaps for added protection.
The protective coverage offered by the AP6000 is good and it was comfortable, but it was let down by its lack of adjustability.
You can pad it out with extra foam, but there's not adjustability or retention system.
Also, there was glue showing around the foam liner and two of the popper for the removable earflaps came off on the first use.
Not so great and we'd expect a bit more at the price.
4. Pro-Tec Ace Wake Paddling Helmet
Pro-Tec where one of the original companies to produce helmets for the paddle-sport market (developed originally from their skydiving lids), so they have many years of experience behind them.
The Ace Wake is designed specifically for water-sports and high-density, injection moulded ABS shell is in a modern looking side-cut design.
It also has detachable ear guards with water channels and the full surround interior padding is dual-density water-resistant EVA foam.
It's very well ventilated, which means it drains really fast and there's none of those unpleasant 'face-douching' when you roll.
Although it's not adjustable, it's available in a range of sizes, the Wake does have a retaining cradle at the back and this combined with the very comfortable dual-density foam gives a solid and comfortable fit.
The detachable earflaps were nicely finished although the retaining cradle did make fitting them a bit fiddly as it gets in the way.
Overall the Wake offers a great quality helmet that will provide you with ample comfortable, good-looking protection for most moving and whitewater scenarios and at a price that won't break the bank.
Best Kayak Helmets Under £200
5. Preadator Lee8 Kayak Helmet
The Predator Lee8 is a slightly bigger version of Predator's Lee helmet and has been designed for medium to XL head sizes.
The Lee 8 keeps the same styling as the regular Lee but with slightly more volume, a wider fit, extra coverage at the lower-back area, and a visor that is slightly shorter.
The Lee 8 also features Predator's Croc-Loc® rear adjustor for a comfortable, locked-on fit.
The shell is made of high-impact Ralvek® thermoplastic for increased stiffness and protection and closed-cell waterproof foam is used to dissipate impacts.
The Lee 8 came with a closed-cell fit pad kit for customizing and detachable thermoformed ear covers.
The Lee8 was pretty comfy, but the first thing that struck the Test Team was its weight.
It is noticeably heavier than all the other helmets on test.
Overall finish and build quality of the shell was nice, but the Croc-Loc® rear adjustor is pretty basic when compared to the other lids in this category and the ear covers, which just Velcro on really weren't worth bothering with. We removed them straight away.
We're not fans of helmets with solid peaks for river running, as we feel there's always the possibility of an increased risk of neck injuries as any impact to the peak will force your neck back, but if you're after a good looking helmet for freestyling or playboating then the Predator provides that at a reasonable price.
6. Shred Ready Standard Half Cut Black Gold Helmet (ABS Injected Moulded Shell Version Available)
This is an ultra-light, high-performance carbon construction version of Shred Ready's popular Standard Halfcut model.
This Black Gold version features a one-piece outer carbon layer combined with inner layers of Kevlar and fibreglass, combined with an EPP liner, drop liner and SR's excellent 2010 Hand Of God (HOG) Lock retention system.
The entire shell is made of a one-piece carbon layer, without seams, wrinkles or pleats to make the carbon fit into the mould, which achieves a lighter, stronger laminate.
The Black Gold construction certainly makes this a light and eye catching option.
The HOG retention is excellent.
It's easy to adjust while wearing the helmet and once adjusted allows for a rock-solid fit.
Construction aside, the Test Team really liked the design of the Standard Halfcut.
It provides great protective coverage and the slight peak gives some protection from the sun's glare without becoming a hazard.
It's available in an ABS shelled version too, and in a full-cut version for those looking for full protection over the ear area.
The only niggle we had is that we'd like to see a 'rim band' around the edges of the helmet, as they began to become a little rough after a few knocks and could get a bit on the sharp side over time, but apart from that it's a great lid.
7. Shred Ready Standard Full Face Kayak Helmet
This is the full-faced version of Shred Ready's Standard helmet.
Designed with those who like things steep and pushy, but who don't want to risk their good looks!
The fact that many paddlers customised motorcycle and downhill mountain biking helmets to tackle the steep stuff in years past show's that there's definitely a place for full-faced helmets in the gear bags of hardcore river runners.
Construction is the same as the Standard Halfcut, although the full-face version isn't available in the Black Gold lay up.
The real crux with full-face helmets is the field of vision that they offer.
The Standard full-face scores big on this front and it gives a full range.
The Test Team did find that it was a bit of a struggle to get on and off and the narrow, hard edges of the helmet, and the straps for the HOG system combined to give their ears a bit of a bashing.
If you feel like you need the added protection that a full face helmet offers, and are prepared to end up with ears like a rugby player then the Standard Full Face could be just what you need.
8. Sweet Protection Wanderer Kayak Helmet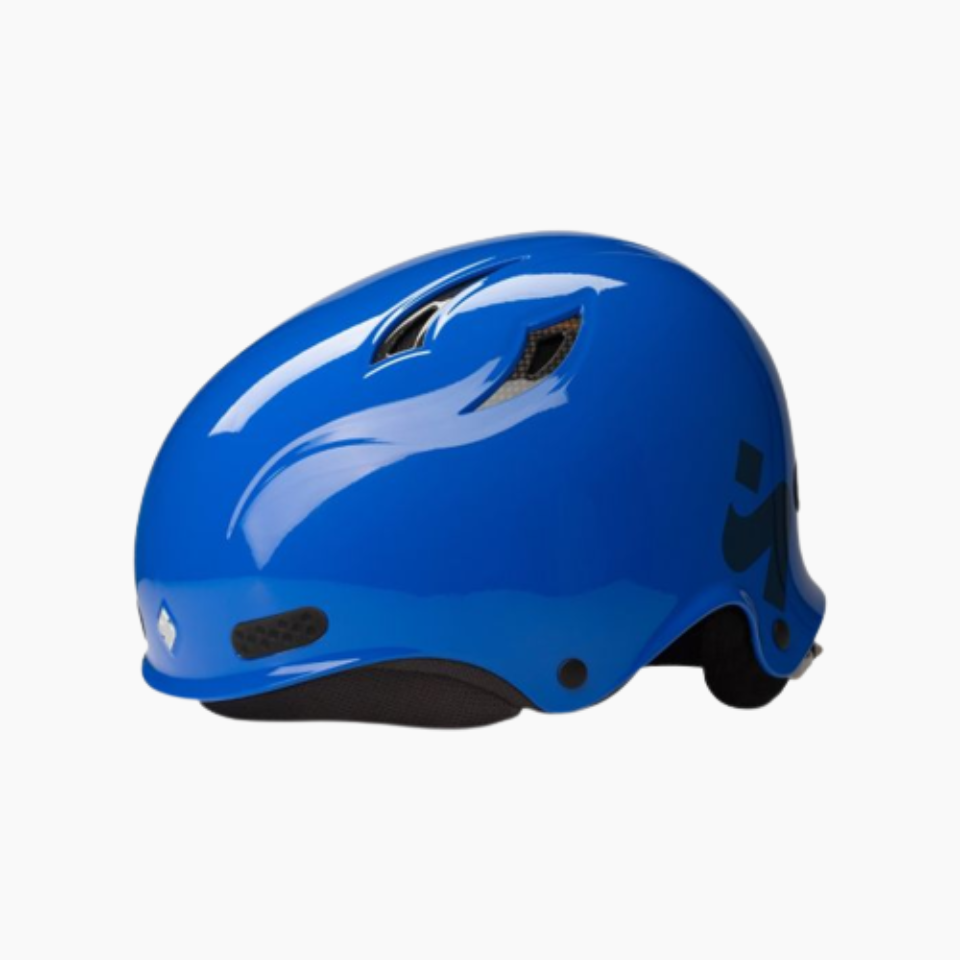 We think it's fair to say that when Sweet came in to the helmet market everything changed.
Designed and manufactured in Norway the team at Sweet not only produced fantastic looking lids they pushed the level of protection and safety design features that we can expect from a paddling helmet to new levels.
The Sweet Wanderer continues that mission and is designed with ultimate safety in mind.
A carbon fibre reinforced main shell covers the circumference of the inner occipital shell, providing pure style and performance.
The new occi-grip system features a gradual tensioning system with super-soft foam that hugs your head to ensure the best possible fit. The occi-grip system is designed with a slightly curved back to maximise the freedom to move without sacrificing fit.
The Wanderer has a very slight peak in its design, and in a striking blue design.
Having used this for a while it's no surprise that, despite being at the top of the pricing spectrum, you probably see more Sweet helmets gracing the heads of whitewater paddlers than anything else.
The Wanderer gives great looks, comfort and above all excellent coverage and protection for your head that's why it wins the best in test award by a mile.
9. Sweet Strutter Kayak Helmet
The Strutter was first introduced to the paddling world back in 1996 to much uproar.
Inspired by the most functional headwear of all time – the American baseball cap, the Strutter married that cooler than cool look with a state-of-the-art build quality and serious safety features.
It was an overnight hit and it seemed like every head in the eddy was sporting a Strutter.
Some voiced concerns about the peak as a potential neck injury hazard on the river, and it's a concern not without foundation, but the paddling public, especially fashion conscious freestylers and playboaters took the Strutter to their hearts where it has remained ever since.
Its features are still highly technical; a carbon fibre reinforced shell with EPP padding combined with a 3mm comfort foam and soft velour lining and with an internal occi-shell.
It is the model of function and fashion combined.
We'd choose a Rocker every time for running hard stuff where a lot of rocks are involved, but, if you've got the cash, for playboating duties the Strutter is still a serious contender.
10. WRSI Kayak Helmet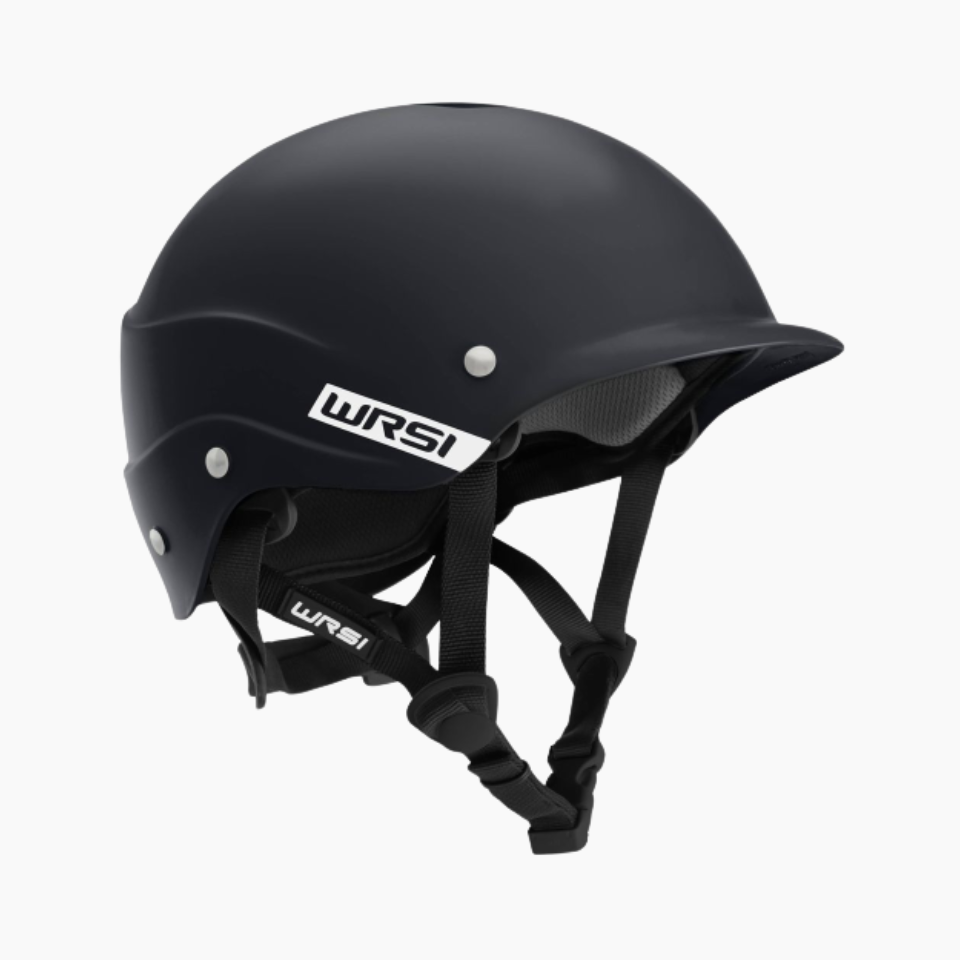 The Whitewater Research & Safety Institute (WRSI) was created after the tragic loss of US kayaker on a river in Idaho.
Committed to producing the 'safest whitewater helmet in the world' the WRSI helmet is the result of those efforts.
The multi-impact helmet is designed with four layers to provide the best impact-absorption and protection possible.
It comes with a selection of different inner-liners, so you can get the best for your head and once that's done we found that, combined with it's simple retention system, it provided a really solid fit.
We liked this lid a lot, whether it is the 'safest helmet in the world' we're not sure, but it certainly provides plenty of protection for the pound, and the fact that 186-foot high water fall running world record holder Tyler Brandt dons a WRSI helmet is not lost on us.
Summary
There is no doubt that investing in a good kayaking helmet is a must, and we hope that the information above helps you find the right option for you and your budget. If it did, be sure to check out some of our other kayaking helmet reviews.