There is nothing better than paddling your sea fishing kayak out on a sunny Sunday morning, sitting back and waiting for your first catch.
In calm conditions just about any kayak with decent storage space will do, but these aren't the conditions that you need to prepare for.
Any kayak fisherman worth their salt will tell you that stability and comfort are the biggest requirements of any quality fishing kayak, especially one which will be used at sea.
So, below we have put together a useful buying guide to help you find and buy the best sea fishing kayak for you, and we have also reviewed the top 4 best sea fishing kayaks.
Should I Buy a Plastic Kayak or an Inflatable One For Sea Kayak Fishing?
You will find many good options when it comes to sea kayaks, made of both plastic and other inflatable materials.
However, picking the right one will be important in making sure that you get the most out of whichever boat you end up buying.
You see, plastic kayaks are the most durable and tend to offer the most stability (especially secondary stability). Although some inflatable options do have flatter hulls which makes for more primary stability and may be favoured by beginner paddlers.
However, the main thing to keep in mind is that most inflatable options will not be suitable for rougher wind and sea conditions.
Whilst inflatable kayaks may well be lighter and more portable, cheaper and more affordable, they also put you at greater risk of capsizing should you find yourself up against some stronger waves.
UK weather is unpredictable, and if you want to maximise the number of sea fishing trips that you can go on, a hardshell option will be best for you. If you are open to using your boat for fishing on lakes and rivers also though, then an inflatable one will let you spend potentially more time out on that water since you don't need to worry as much about that consistent rocking in flatter conditions.
Still, getting used to the increased tipping on a hardshell boat will take some time, and if you are brand new to kayaking then I recommend starting out with an inflatable option in calmer sea conditions (and stay close to the shore!). You can always upgrade later on.
The 4 Best Sea Fishing Kayaks
1. AQUATEC Hudson Inflatable Sea Fishing Kayak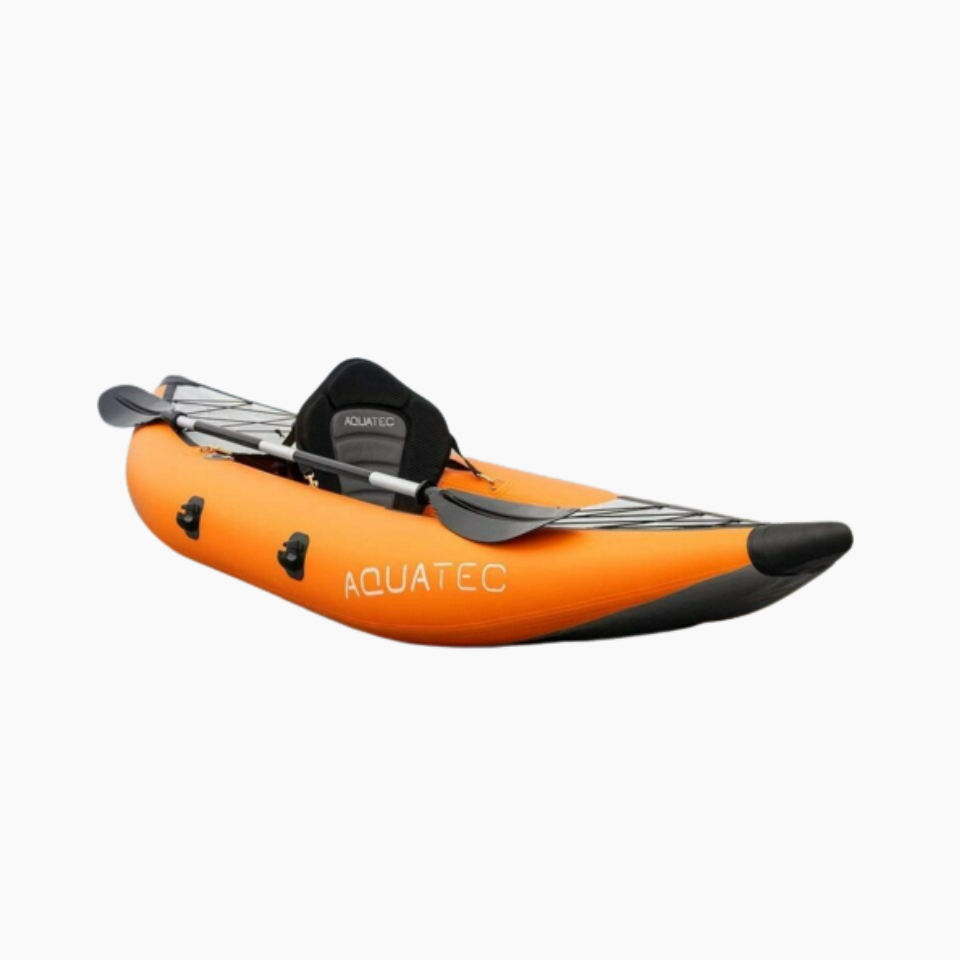 AQUATEC Hudson Inflatable Sea Fishing Kayak Specifications
| | | |
| --- | --- | --- |
| Number of Paddlers: | 1 | 2 |
| Size: | 300cm x 90cm x 25cm | 420cm x 60cm x 25cm |
| Weight: | 12kg | 17kg |
| Maximum Load: | 130kg | 170kg |
The AQUATEC Hudson is the best sea fishing kayak for beginners because it is very stable on the water, even in choppier sea conditions.
It is lightweight and easy to transport, comes well outfitted (including a double action pump, inflatable seats and a paddle), and is very durable thanks to the drop stitch material used to manufacture it.
What do the paddling experts think?
We have found the Ottawa to be very stable on the water, even when it has got rough and choppy on the sea. The Ottawa is the most stable solo kayak we have used.

Kayak Crew, Kayak Reviewer
The Aquatec sea fishing kayak is light weight and considered easy to transport by many. As an inflatable option, it can be deflated and folded to save on car space, which you are going to need since you'll likely be carrying a sizeable amount of fishing gear with you.
A convenient carry bag also makes taking the boat to the launch site easy, and carrying it back to the car from the landing site no problem (even more important since your shoulders and arms may be fatigued if you've made any good catches out on the water!).
After about 10 minutes to inflate the raft (pleasantly surprising given the drop-stitch material used) with the portable hand pump, the side grab handles can be used to move it into the water.
The hand pump can slip out of the valve if you are using the barometer to gauge the PSI, so make sure to keep it stable whilst inflating it.
This sea fishing kayak is well outfitted as it arrives with a:
Double action pump.
Repair kit.
Paddle.
Inflatable seats.
The paddle you get included is good enough to use out the box, so you won't need to invest in a premium quality one unless you have a specific shape or style in mind.
You will be able to comfortably spend hours out on the water in this boat, providing the conditions are good. Since it is an inflatable raft, the negative is that it isn't appropriate for choppier waters which will likely effect how often you can use it for sea fishing excursions.
Detachable seats are a nice touch so you can position them to your comfort, and make sure that you leave enough room for your bait and rods.
Footrests aren't included, so you may wish to look into creating a makeshift footrest with the carry bag or some of your gear.
The primary stability of the Aquatec makes this a great sea fishing kayak for beginners, and reviewers can't knock the secondary stability either.
Surprisingly sturdy for an inflatable option even on choppier waters, this boat is a great options for those new to kayak fishing who aren't familiar with or fond of the tipping you may experience in hardshell boats when the water is flat.
It is often agreed that inflatable kayaks like this one are great for fishing expeditions, providing the water is calm and flat. The drop stitch material used on this kayak support this and make it extremely durable.
Even if you do get caught up in the odd light current, a 8 inch skeg makes tracking and turning the boat a breeze.
Just note that if you do get caught in strong sea conditions, the kayak is prone to turning. Make sure you always wear a personal floatation device (PFD) and keep valuables in a dry bag.
Assuming you pack your AQUATEC inflatable sea kayak away properly in its carry case and store it properly, you will find it to be incredibly durable.
Make sure you deflate (the pump will help you do this quickly!) and dry the kayak thoroughly before packing it though to prevent mildew build up.
AQUATEC Inflatable Sea Fishing Kayak Pros & Cons
Pros
Good primary and secondary stability (for an inflatable option), making it more suitable for sea fishing.
8 inch skeg makes tracking and turning a breeze.
Detachable seats maximise comfort and lets you position your fishing rods, bait and gear exactly as you like.
A carry bag with wheels on the bottom is great for transporting your kayak.
Affordable option for keen sea fishers and beginner kayakers.
Cons
You will not be able to stand up in this raft.
Beginners may struggle to use the tandem option solo, but if you have a decent amount of gear you may need the tandem to store it all.
As an inflatable boat, the risk of not being able to turn and even capsizing in rougher sea conditions is higher.
Some critiques of the carry case not being the best quality.
2. Sevylor Colorado Inflatable Kayak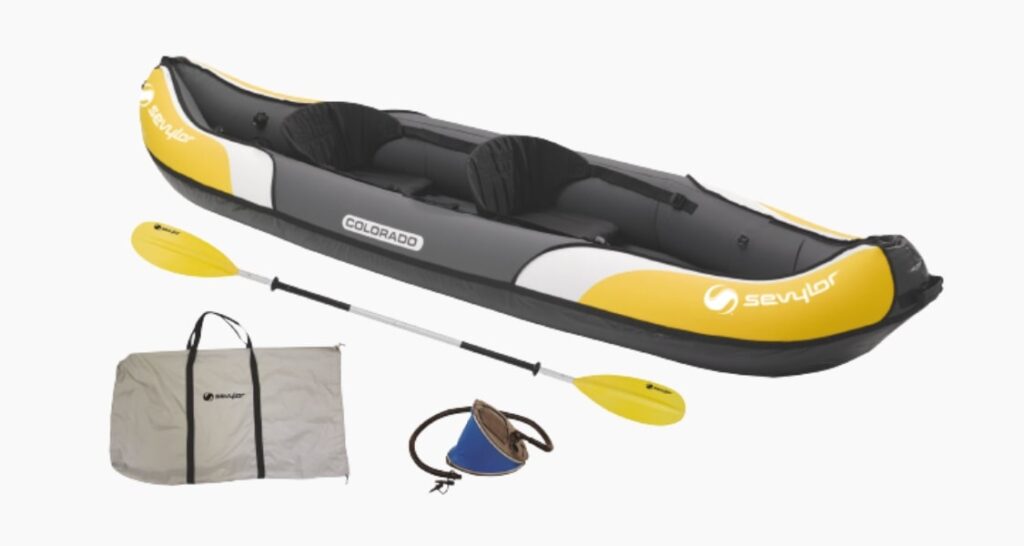 Sevylor Colorado Inflatable Kayak Specifications
The Sevylor Colorado is the best sea fishing kayak that we could find because it keeps stable and in control even when out at sea, and works great as a solo or a tandem boat.
The Colorado is well outfitted as it comes with a paddle and very comfortable seats, and one of the most portable options we have found to as it can be inflated with 5 minutes with the included foot pump.
What do the paddling experts think?
The Sevylor Colorado is an amazing 2 person inflatable kayak that performs tremendously out on the water, even out at sea

Canoe Kayak, Kayaker Reviewers
Inflating the Sevylor Colorado is quick and painless, and as an inflatable option it is perhaps one of the most portable sea fishing kayaks that you will find.
A useful gauge for measuring the PSI as you inflate is included, and the pump is easy to fit and insert into the Easy inflation valve.
All three of the Colorados chambers will be inflated after about 5 minutes, which is quicker than the norm considering we find most inflatable rafts require around 10 minutes to inflate and deflate.
At only 14.7kg on the tandem option and around 14kg on the solo one, even slightly younger paddlers will be able to lift and carry the boat to their desired launch point.
This fishing kayak is incredibly comfortable, even when it is loaded up with a not insignificant amount of fishing gear.
The adjustable seats help maximise comfort and also encourages good paddling form and positioning, they also allow you to layout the boat however you desire to fit in all of your fishing gear.
The Colorado is generously outfitted with an aluminium paddle, foot pump, skeg and carry bag.
Finally, even the taller paddles will enjoy the ample leg room afforded by the this premium inflatable kayak.
Large outer chambers help maximise the stability of this boat which is ideal for kayak fishing, especially if you're hoping to fish out at sea.
This is a very versatile option which works great as a solo or a tandem boat.
The Colorado has great manoeuvrability, in part thanks to the included skeg, and paddlers of all ability should be able to control it providing the sea conditions aren't too rough.
The spray decks at each end of the raft are a nice touch, and they will help provide a drier ride whilst keeping your fishing gear protected.
This fishing kayak is made out of heavy duty PVC and polyester, so you are unlikely to damage or tear it if you stick to calmer waters.
However, the maintenance of this boat is still perhaps its biggest draw back.
You see, inflatable boats in general are prone to a build up of mould and mildew if they aren't dried and stored properly.
Still, providing you treat you Sevylor Colorado with care, it will last you a long time and result in many happy kayak sea fishing trips.
Sevylor Colorado Inflatable Kayak Pros & Cons
Pros
Quick to inflate, quicker than many other inflatable boats.
Light weight and portable.
Well outfitted with a paddle, pump, skeg and carry bag included.
Versatile for solo and tandem paddling trips.
Cons
This kayak (like other inflatable ones) is potentially prone to mould and mildew.
Certainly not the cheapest inflatable option (the AQUATEC mentioned above is the more affordable of the two).
Best Budget & Tandem Sea Fishing Kayak
3. Intex Explorer K2 Sea Kayak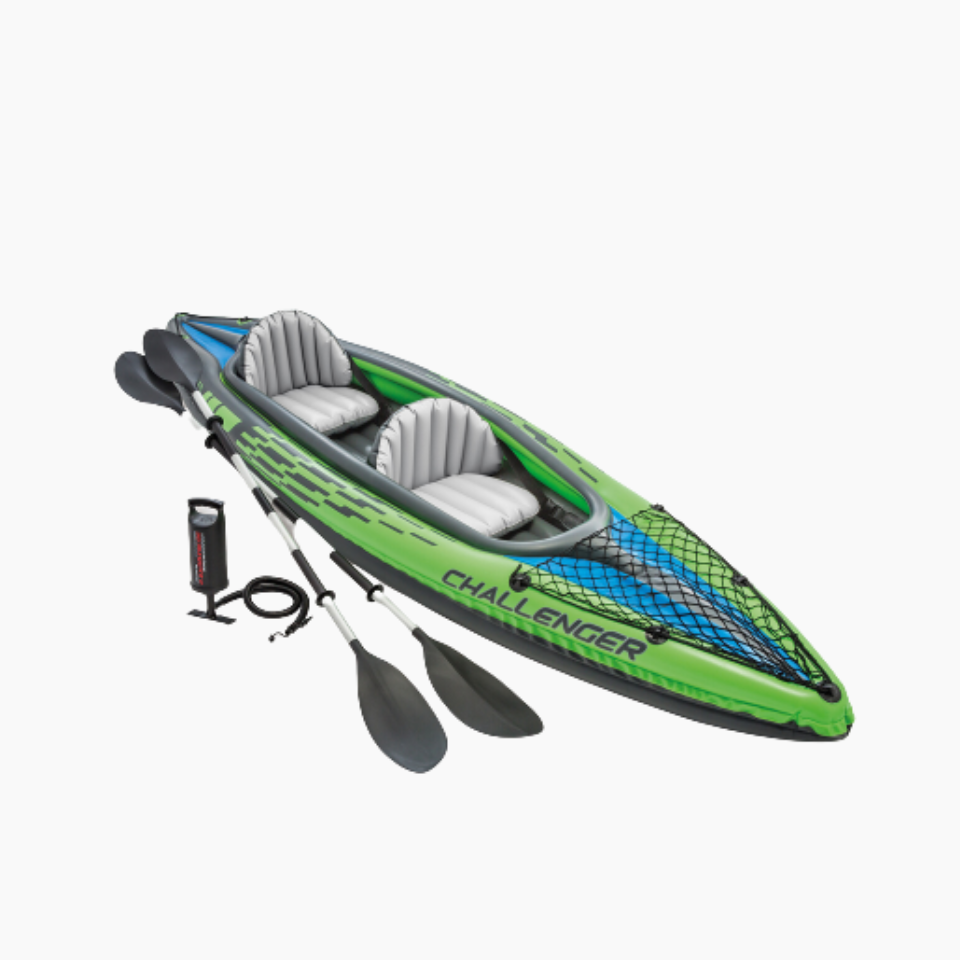 Intex Explorer K2 Kayak Specifications
| | |
| --- | --- |
| Height: | 91cm |
| Width: | 351cm |
| Depth: | 38cm |
| Weight: | 14.85kg |
| Maximum Paddler Weight: | 160kg |
The Intex Explorer is the best sea fishing kayak for those on a budget and for those looking for a tandem sea fishing kayak because it performs very well as both a solo and a tandem raft and comes at an affordable price.
Whilst it isn't the most portable (as it can take as much as 15 minutes to inflate), it does offer amazing stability and outfitting.
What do the paddling experts think?
If you're thinking about getting one of these, and you're not entirely sure, I'd say just to it.

Camp Life Bushcraft, Kayak Reviewer
If you are looking for the kayak that is quicker to inflate, this may not be the best option. Since it takes approximately 15 minutes to fully inflate (including the seats).
However, the K2 Explorer is quicker to inflate than the Excursion or Sea Hawk models.
Considering the boats many positive features, I wouldn't be too quick to discount it based off the time to inflate it.
At some point or another you are likely going to want to invest in an electric pump, at which point the slower inflation time becomes significantly less tiresome.
Inflation time aside, the Intex K2 does come with a handy carry bag which makes it more portable. Although some have commented that the bag isn't the best for over-the-shoulder carrying. Keep this in mind if it is multiple day excursions that you are after.
The Intex K2 features convenient grab handles to the front and back of that boat.
Draining it after a fishing trip is also easy thanks to the water release valve.
The Intex K2 is amazingly comfortable. Especially when you keep in mind how affordable it is (usually the cheaper models result in less rigid material which also often results in less comfort!).
The adjustable seats are a dream to sit and paddle in, with high back rests to offer total back support.
This is another incredibly versatile option, suitable for solo or tandem/family padding trips.
The Intex K1 model is great, created solely for solo paddlers, but the K2 does so well on solo trips that you're better off going with it from day 1 to leave yourself the option of tandem trips should you want to in the future.
As a bigger boat, you will enjoy a lot of great storage room. Perfect for sea fishing kayakers.
Sea kayak fishing requires a boat that can handle a range of (potentially tippy) sea conditions, and the Intex K2 certainly delivers on that.
While keeping in mind that no inflatable boat is going to cut through the waves the same way a hardshell kayak would, the K2 still has some amazing stability.
The flatter hull does however mean that you will face some wind and water resistance when paddling in choppier waters.
Being a single skin boat, the K2 is not suitable for strong currents and rapids, especially not if there are any obstacles in the water. Fortunately the boat does come with a repair kit in case you do suffer a puncture.
Tracking and turning is easy enough thanks to the attachable skeg.
You may find yourself longing for a longer paddle, but really for sea fishing expeditions the light and sleek paddle included is all you will need.
You will need to be careful not to damage this kayak, since it is a single skin boat.
Assuming you take good care of the boat, you won't have to ever use the repair kit included. However, it is nice to have the tools and materials needed for a repair should you need to use them.
Perhaps the most important part of maintaining an inflatable kayak is drying it properly. A water release valve on the K2 makes doing this a lot easier.
Store your K2 in a cool and dry place, and keep it in the provided carry bag for maximum durability.
Intex Explorer K2 Kayak Pros & Cons
Pros
Convenient grab handles at the front and back.
Very comfortable thanks to the ample leg room and high rest back support chairs.
Suitable for solo and/or tandem/family paddling.
Great in a wide range of sea conditions.
Amazing stability.
Good tracking and turning.
Cons
Not the quickest to inflate (taking approximately 15 minutes).
Single skin which makes the boat more susceptible to punctures and tears.
The carry bag is not the best for over the shoulder carrying.
4. Cambridge Kayaks Zander Kayak for Leisure & Fishing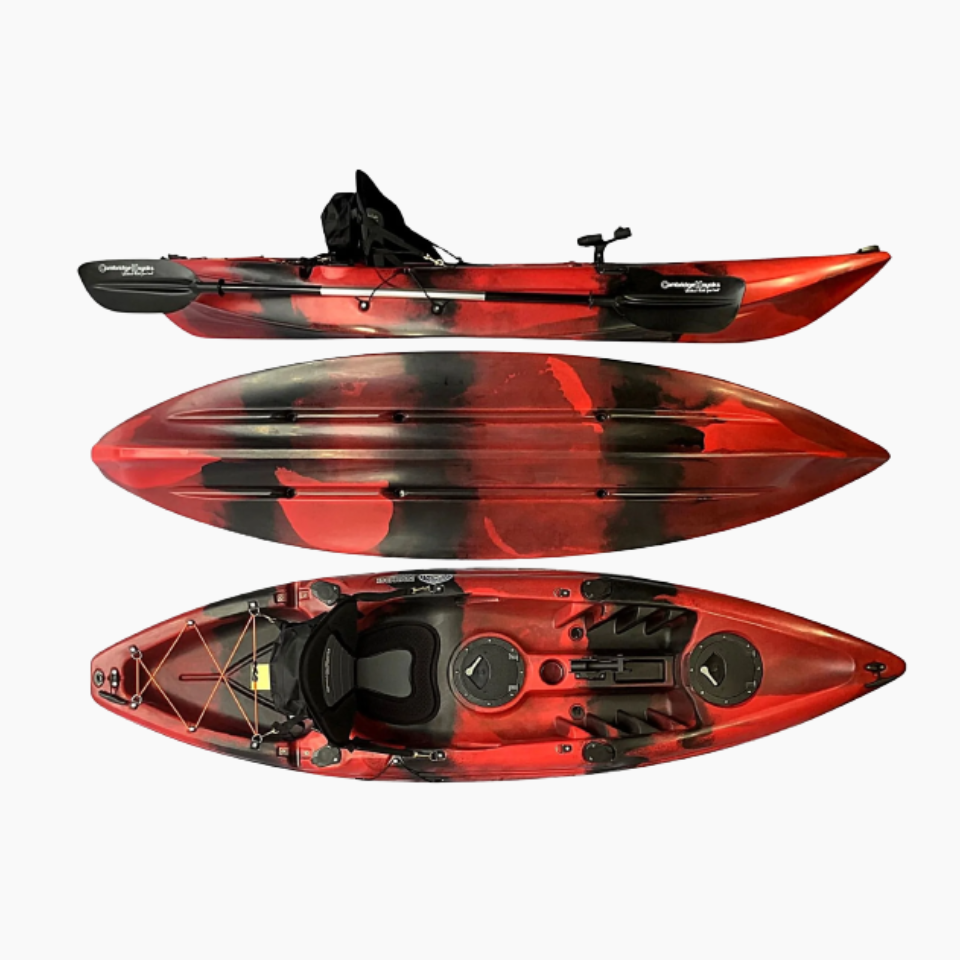 Cambridge Kayaks Zander Kayak for Leisure & Fishing Specifications
| | |
| --- | --- |
| Height: | 272cm |
| Width: | 80cm |
| Depth: | 34cm |
| Weight: | 22kg |
| Maximum Paddler Weight: | 130kg |
The Zander Kayak by Cambridge Kayaks is the best hardshell sea fishing kayak because it is suitable for a wide range of paddlers, capable of tracking with precision and designed specifically for those looking to use it for kayak fishing.
A multi channel hull makes it high performance and incredibly stable, and the strategically designed raft has plenty of storage space for all of your fishing gear (including 5 rod holders and 2 storage hatches).
For those looking to customise their sea fishing kayak and take their fishing excursions to the next level, outriggers and/or a trolling motor can be added.
What do the paddling experts think?
The Zander is perfect for those looking to get the most out of their sea fishing kayak. As a hardshell option, it is best suited for the infamously unpredictable waves and currents that you will across in the UK oceans

Dave Jenkins, Kayak Reviewer
The Zander Kayak is very portable, in fact this is one of its main strengths.
A linear low-density polyethylene (LLDPE) construction means that not only is the Zander UV and salt water resistant, but it is also extremely strong, durable and impact resistant.
You won't struggle to move the Zander to and from your car or launch/landing point, meaning that you reserve your valuable energy and focus for the paddling and fishing.
The Zander is also relatively small and compact, especially compared to some of the other inflatable sea fishing kayaks listed in this article (and other sea fishing kayak buying guides). Perfect for those who do not have a kayak trailer or large van/vehicle.
As far as outfitting for sea fishing kayaks go, the Zander is unrivalled.
Not only do you get 5 rod holders and a luxury padded back seat, but two storage hatches and a lightweight pro paddle to!
A drinks holder has been built in to the deck and moulded footrests maximise comfort, and both of these features will take your kayak fishing trips to the next level.
This is certainly one for the more advanced sea kayak fisherman, since you have the option to add an outrigger and/or trolling motor should you choose to do so.
Any passionate angler would be over the moon to receive one of these as a gift.
When it comes to performance, the Zander can not be beat.
Hardshell boats just cut through the waves in a way that inflatable kayaks simply can't, and they're considerably more durable to.
You will find that the Zander outperforms the inflatable rafts listed in this article in everything from tracking to turning and manoeuvring.
Specifically for sea fishing this boat is unbeatable to.
Not only because of its superb performance, but because this is partnered with outfitting geared specifically for paddlers that want to go fishing.
Strong and durable LLDPE makes this sea fishing kayak incredibly impact resistant, and you won't find it damaged by the UV rays which will be beating down on when you're out on your fishing excursions.
Hardshell kayaks like this one don't need to be inflated and deflated, meaning they're less susceptible to mould and mildew.
Overall the Zander is one of the most hands-off kayaks you will find when it comes to maintenance.
Cambridge Kayaks Zander Kayak for Leisure & Fishing Pros & Cons
Pros
Impact and UV resistant LLDPE material.
Incredible tracking and turning.
Perfect outfitting for sea kayak fishing.
5 rod holders, 2 storage hatches.
Option to add outriggers or a trolling motor.
Extremely portable for a hardshell kayak.
Cons
More expensive than some inflatable alternatives.
Less portable than inflatable kayaks.
The Sea Fishing Kayak Buying Guide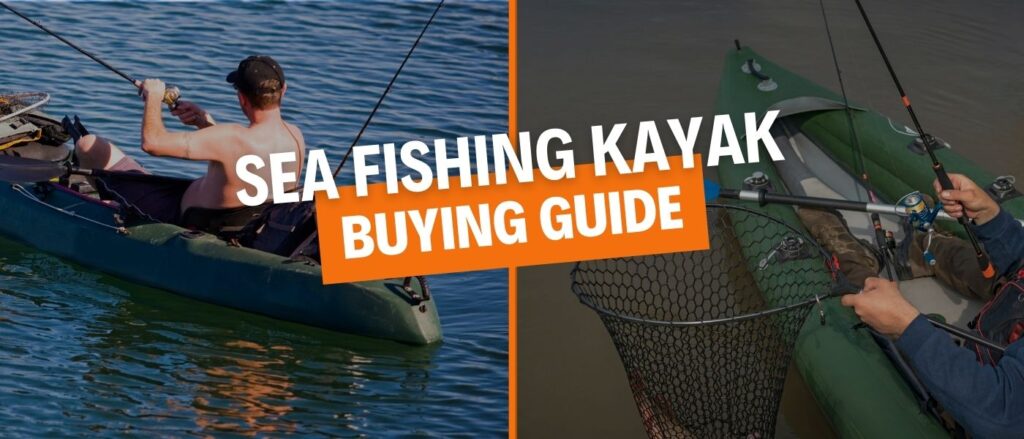 How Much Does a Sea Fishing Kayak Cost?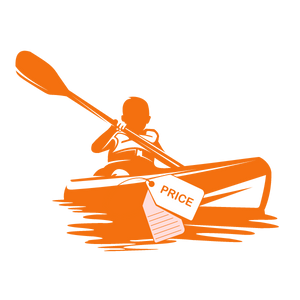 There is no single price for all sea fishing kayaks. The price will vary depending on several factors including:
Brand/Manufacturer
Material
Outfitting
Shape
Style
New or Used
You should shop around a variety of retailers, keeping in mind your desired features and functionality, to find the best sea fishing kayak for you at the best price.
In general, most sea fishing kayaks vary in price between £200 and £2,000 or more.
If you want to get a sea fishing kayak with many features, like fishing rod holders and paddles, you should expect to pay more.
The price will also be dictated by the material the boat is made out of.
Hardshell sea fishing kayaks are the most expensive, but they also offer some of the best secondary stability.
Inflatable sea fishing kayaks are more affordable, although you will often be sacrificing some speed, control and durability for that lower price tag.
I would caution against looking for the cheapest kayak. Remember, when you buy cheap you buy twice.
If budget is an issue, you should consider purchasing a second hand/used sea fishing kayak from a well reviewed and respected seller or retailer.
Things to Consider When Buying a Sea Fishing Kayak
There are a number of things that you should consider when purchasing a sea fishing kayak, and I have listed out some of the key things to consider below.
Material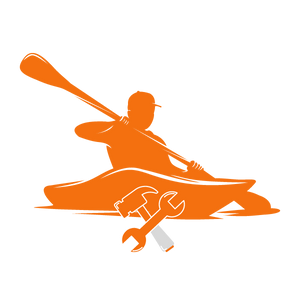 When designing and manufacturing a sea fishing kayak, the best kayak brands are looking for some key things out of the materials that they use:
Durability
Water Proof/Resistant
UX Resistant
Light
Flexible
Affordable
Easy to Fix/Repair
The best sea fishing kayaks will be made out of something which can withstand even rougher sea and wind conditions. Flexibility ties in with this, since an inflexible material is at higher risk of tearing/being damaged.
Sea fishing kayak materials will of course also have to not be damaged by salt water and UV light (since you hope to spend hours at on the water with the British sun beating down on your boat). Generally speaking, thicker and tougher materials will be best.
Having said that, no paddler wants to be exhausted before they even get out on the water so a lightweight material which can be carried to and from the water is vital.
Finally the best sea fishing kayak materials will be cheap and easy to repair. This allows manufactures to offer more generous warranties and repair schemes, with many options even coming with a free repair kit.
Popular Sea Fishing Kayak Materials
Below I have noted some of the most popular sea fishing kayak materials, alongside an overview on why each one may be suitable for sea fishing.
Polyethylene
Polyethylene is often used to make sea kayaks because it is affordable, tough, salt water and UV resistant, and durable. However it is typically heavier than other materials, and less rigid which can make polyethylene plastic sea kayaks less comfortable.
Fibreglass
Combining glass fibres and resin creates fibreglass, which is another popular material used in sea fishing kayaks. Fibreglass is strong and lightweight, also flexible and rigid, which makes it a great material for a hardshell fishing kayak. The downside is that fibreglass tends to be more expensive than plastic/inflatable options.
Carbon Fiber
Combining carbon fibres with resin creates carbon fibre, a strong yet lightweight material perfect for sea kayaks. It is much more expensive and typically used for the highest performance sea fishing kayaks and racing boats. Carbon fibre kayaks are regarded as some of the strongest, fastest and most manoeuvrable around. The drawback of carbon fibre kayaks is that they can be fragile and more easily damaged (particularly in transport).
Price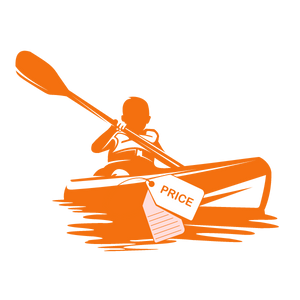 As discussed above, you will find that the best sea fishing kayaks range on price greatly.
Top inflatable options will start at around £200, with most sitting around £300 – £400. Hardshell boats on the other hand tend to start around the £600 range and, for the higher performance kayaks, can reach upwards of £2,000.
Keep an open mind and research a number of kayaks within each price bracket to get a better idea on what kind of sea fishing kayak will be best for your wants, needs and paddle experience.
Stability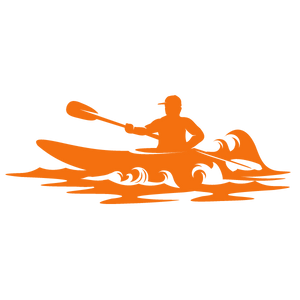 You will want to think about the stability of the sea fishing kayak that you ultimately buy, since this will directly effect both the amount you can catch on any given trip and how often, where and when you can use your chosen boat.
A more stable kayak can be more easily paddled and manoeuvred, allowing you to get to where you need to go and stay where the most fish are to be found.
You are also a lot less likely to capsize, tip or flip in a more stable kayak, which will necessary to keep all of your fishing gear and supplies safe and dry.
The best sea fishing kayaks tend to have wide and flat hull designs with a low centre of gravity. These features mean that the raft will have excellent primary stability, which keeps the kayak flat and controlled out on the water. You will have to compromise on the secondary stability though, which makes the kayak more stable in waves and choppier conditions. This is a fair compromise though, since for fishing you won't want to go out in too turbulent sea conditions.
Weight/Portability
If your sea fishing kayak is too heavy, it will be difficult to transport and launch. It may even be impossible to lift and load the kayak on to your car/boat launch, severely limiting how easy and often you can use it. Keep in mind also that you will need to fill your kayak with all your fishing gear, as well as your total body weight. So you will want to find and buy a sea fishing kayak with a good maximum weight capacity.
Durability & Lifespan
The ocean can be a cruel mistress, and sea fishing kayaks will take a real beating out on the water. They will have to withstand large waves, strong winds and potentially obstacles like reefs and/or other gear floating about that belongs to paddle sport enthusiasts (e.g. surfers and bodyboarders).
A strong and durable fishing kayak is less likely to break or tear, which will save you money in the long run as you enjoy your chosen boat for many years and over countless fishing trips.
The most durable kayaks also hold their value more than cheaper and weaker alternatives. Should you decide to sell your kayak in the future, you'll get a much better offer if your boat is still in a good condition.
For maximum longevity you should consider investing in a fibreglass or carbon fibre sea fishing kayak. If budget is an issue, at least opt for a double skin inflatable option from a respected brand.
Control & Tracking
A successful kayak fishing trip requires good control and tracking from your boat. After all, if you can't get yourself in the best spot how do you expect to make the best catch?
Control and tracking will determine how easy it is to paddle and turn your raft. The ability to paddle in a straight line, turn and stop your boat isn't just important for your fishing results, it is necessary to keep you and others safe out on the water.
When you are shopping for your next sea fishing kayak, look for one with a skeg or rudder as well as a flared bow or stern to maximise the amount of control you have out on the water.
Size & Comfort
The size and comfort of your sea fishing kayak will directly determine how long and often you are able to enjoy using it.
Your kayak needs to be the right size and style for your height and body type, not to mention your individual paddling style.
Kayak fishing is a sport like any other, and being comfortable will reduce the risk of injury and yield better performance. In fact, a more comfortable boat will reduce fatigue and keep you in a good ergonomic posture whilst allowing you to pick up more speed and turn with more precision.
Whilst taller paddlers will of course need a longer boat, I wouldn't suggest shorter paddlers seek out a short sea fishing kayak. Shorter boats are notoriously harder to pick up speed in and you will have less room to store your fishing gear.
Outfitting
Whichever sea fishing kayak you go with, you need to make sure that it is equipped with all that you could need whilst out on the water.
The last thing you want is to spend 20 minutes paddling out to the perfect fishing position, only to realise that you forgot your rods or bait because you couldn't seem to squeeze them in the night before.
The best sea fishing kayaks will include seat(s), foot pegs or rests, generous storage compartments or space, rod holders and dedicated tackle storage, and an anchor system. You should also order a personal floatation device to wear whenever you go out on the water. If your fishing kayak can accommodate it, a spray skirt is a good idea to keep you dry in the often predictable UK ocean and weather.
Sea Fishing Kayak Things You May Want to Avoid
These days UK paddlers are lucky enough to enjoy a huge selection of top sea fishing kayaks. However you should also take note of some things that you should avoid when shopping for your next fishing kayak.
Short Sea Fishing Kayaks
Shorter kayaks are usually more manoeuvrable and easier to handle than longer options, which is why you often see them used for white water kayaking. However, they are also often less stable and more likely to capsized by strong waves, winds and/or currents.
If you are a beginner sea fishing kayker, I would recommend you stay well away from short boats. Look for a longer one which will be more stable and provide you more space to store your fishing gear and anything else you may wish to bring out with you (e.g. food and water).
For intermediate or even advanced paddlers, try out a shorter sea fishing kayak before investing in one and, if possible, speak about some of the pros and cons of this style of boat with a kayak coach.
Sit-in Sea Fishing Kayaks
Sit-on-top sea fishing kayaks are widely regarded as the best option for UK paddlers.
First, sit-in sea kayaks are incredibly difficult to get in and out of, which means they aren't suitable at all for beginners who may already be nervous when launching and landing their boat.
Second, they are more likely to capsize given their lower centre of gravity. This is a major drawback considering it is in the sea that you are most likely to come up against unexpected water and wind conditions.
Thirdly and finally, sit-in sea fishing kayaks are simply less customisable and adaptable. Many sit-on-top sea fishing kayaks feature adjustable seats that let you find your ideal seating position and maximise your storage space. Sit-in seating positions are, more often than not, better suited to experienced paddlers that know how to dig in and adapt their paddle strokes to the currents and water conditions that they find themselves in. Still, even more experienced paddlers say that they prefer sit-on-top sea fishing kayaks.
Inflatable Sea Fishing Kayaks
Now, inflatable sea fishing kayaks are usually more affordable and the go-to choice for beginners. Some of the higher end ones will even be capable of staying stable in calmer sea conditions and carrying a good amount of gear. However they are never going to be as durable as hardshell alternatives. They also happen to be a lot less stable, increasing the risk that they will flip in choppier conditions. Finally, they are also not able to carry as much gear as hardshell sea fishing kayaks. I wouldn't go as far as to say that inflatable sea kayaks aren't a good option for anyone, only that you are likely to outgrow your inflatable raft fairly quickly if you go out on the water regularly.