These days most locations enjoy at least one destination or venue that offers kayak or canoe rentals. Also, there are an increasing number of operators offering a range of canoe and kayak hire experiences throughout the US.
Canoe or Kayak Hire Options
You are able to hire a canoe or kayak in a number of different ways, depending on what exactly you're looking for and how much time you have to enjoy the boat.
For example, some people only wish to hire a canoe for an hour or two to enjoy a gentle float in a single location (usually a small-to-medium sized lake).
Others may well choose to head out on a river or sea adventure for the whole day, in which case you can certainly hire a kayak for this long.
Furthermore others fancy an overnight canoe or kayak excursion, so will need a longer rental option for their trip.
Whatever your wants and needs, most outfitters are able to accommodate you with a wide range of rental packages available.
What Type of Boat Will I Need?
Open Canoes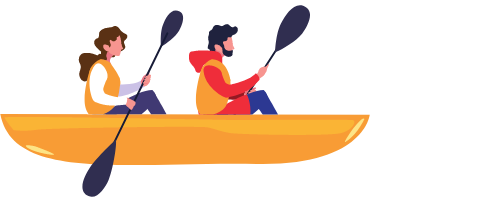 Most hobbyists want to hire open canoes, and these are the most commonly hired boats at most outfitters.
Open canoes are extremely user-friendly, and suitable for a wide variety of skill levels. They are also great for carrying kit and will usually fit the whole family in for lots of paddling fun.
Sit-On-Top Kayaks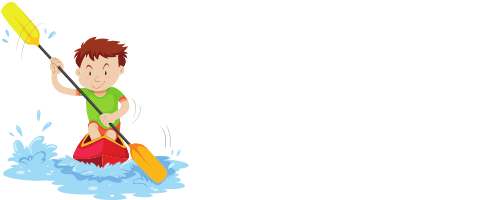 Another one for the more recreational trips, sit-on-tops are beginner friendly and great for a casual paddle.
They aren't ideal for higher grade rivers or sea conditions, due to their exposure to the winds and elements (which makes them less stable and increases the likelihood of you capsizing).
Cockpit Kayaks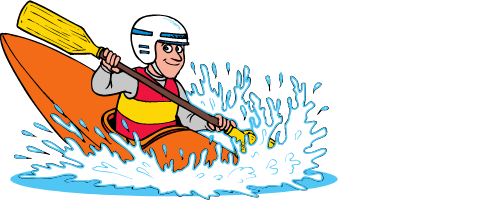 In general, the renting of cockpit kayaks is rarer.
Users need more experience to effectively paddle them, and turning or manoeuvring one requires a greater level of skill.
However their stable design, ability to pick up speed and agility make them a great option if you are a more experienced paddler.
Beginners will also be able to get on well with a cockpit kayak, just you will benefit greatly from a beginners lesson on the basics.
Accessories & Other Gear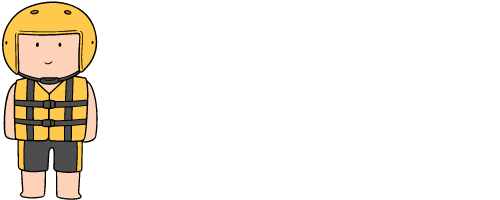 When renting a boat you will also be provided with some basic paddles and buoyancy aids/a personal floatation device (PFD).
Any respectable rental shop will ensure your PFD fits you properly and, if you are new to kayaking or canoeing, will give you the basics of using the paddle.
Remember, your buoyancy aids are vital to ensure that you (and whoever else you are paddling with) enjoy a fun and safe day out on the water.
Launching & Landing Your Rented Canoe or Kayak
Launching your canoe or kayak will depend in part on where you are renting it.
If you are paddling on a lake, chances are that they will have a dock that you will be launching from. Follow any specific instructions they give you but you will essentially be stepping into the boat slowly one foot at a time whilst keeping your balance to launch, and reversing the process to land.
If you are visiting a river or sea kayaking, you may be able to walk the boat out into shallow water and get in at this point. Alternatively some operators will help you out with a boat ramp (or some just use a sloping shore line).
To land your kayak or canoe in a river or the ocean, you should paddle in to shallow waters and step out carefully.
Returning Your Canoe or Kayak
You are loving your time out on the water and, before you know it, you find yourself miles away from the rental shop and it is nearly time to drop the boat back to the owner. So how do you return your canoe or kayak?
Well, if you are paddling down river on a day or multi-day trip, odds are that your operator will include a shuttle back within your price.
It isn't unusual for the best operators to drop you and all your paddling gear upstream to begin your trip, or to pick you up at the end of the adventure.
The drop offs and pick ups usually involve a mini-bus with a large trailer attached to put the boats on.
If you don't own your own car, vehicle and/or boat then these kind of rental arrangements make complete sense and will help you have the best trip possible. You will be able to get to many kayak or canoe hotspots by public transport.
Guided Tours & Trips Alongside Your Kayak or Canoe Rental
A guided trip or tour to go with your kayak or canoe rental will be great if you have limited experience and want the added safety and security offered by exploring the water with an experienced guide.
Guided trips also mean that you get unique insights and information from a knowledgeable local. They are almost always informative and fascinating since your guide will undoubtedly have a firm understanding and knowledge of the area and waterway that you are exploring.
Kayak & Canoe Rental Costs
How Much Does it Cost to Hire a Canoe?
Most operators offer full day canoe rentals for around $50, or no more than $20 per hour. You may see discounted rates when booking a longer trip, or if you rent multiple canoes at the same time.
How Much Does it Cost to Hire a Kayak?
Hiring a kayak for a couple of hours will cost you approximately $35, depending on the pricing options of the specific operator you are renting the gear from.
If you want to take the kayak out for longer (say 8 hours/the whole day), most operators offer a discounted rate. Usually a full day rental will cost about $45 – $50.
Multi-day trips are run at the operators set day rate over however long you intend to have the boat. Likely around $90 for a 2 day kayaking trip, and $135 for a 3 day one.
Prices may differ and be higher if you are looking to hire a tandem kayak, or could be less if you are hiring multiple kayaks at the same time.
Canoe & Kayak Rental FAQs
Should I Hire a Kayak or a Canoe?
Both boats have their pros and cons, and each requires training and equipment to operate effectively.
Many beginners opt for a canoe assuming they are easier to use, but in reality a beginner who follows the advice of their guide and/or operator will get on well with either vessel.
How Many People Will Fit in a Rented Canoe?
This is a question you should put to the operator you are renting your canoe from.
1 person canoes are the most commonly rented ones, and next would be the 3 person ones.
Never exceed the recommended capacity, and always follow the advice of your rental shop or guide.