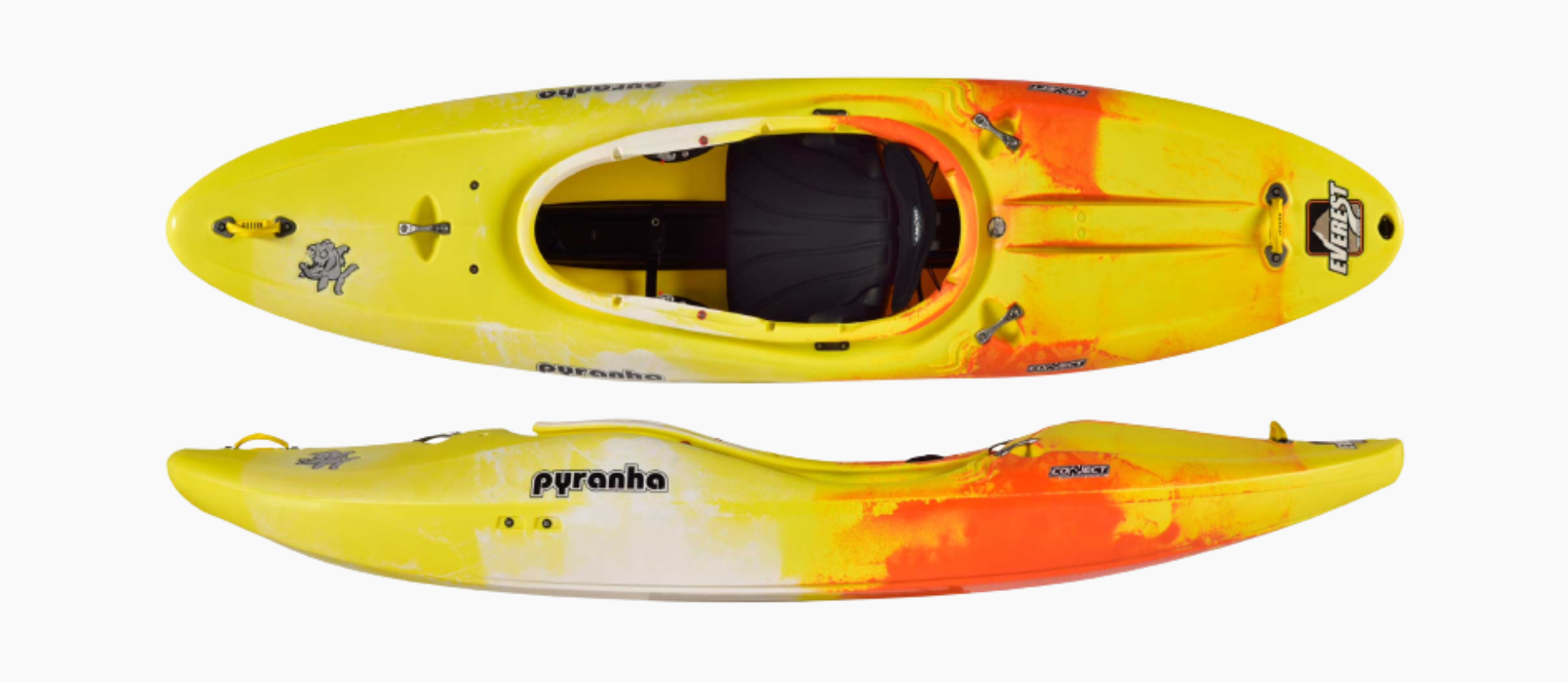 Pyranha Everest Whitewater Kayak Specifications
Getting Started
This is a boat that comes with a weight of history on its shoulders.
The original fibre-glass 'Everest' was designed by Pyranha 31 years ago, for Dr Mike Jones and his team, for their epic, and widely publicised expedition to make the first descent of the Dudh Kosi – relentless river of Everest!
That design then went on to become one of the most popular plastic boats of its time.
It seems fitting then that when the guys at Pyranha set about designing a brand new expedition whitewater kayak, they decided to use the iconic name once more.
Based on their very popular and well-proven Burn series of river running boats, the Everest has been beefed up with a longer length, more bow rocker, aggressive deck profiling, to shed water quickly, softer edges for predictable handling and more volume to cope with extra gear for self-support river trips, or BIG paddlers.
We've been paddling one for the last ten-months from water ranging in grade from two up to five.
From fun sessions on the Tryweryn and at the whitewater course at Nottingham, to high-water runs in the French and Austrian Alps and autumn and winter runs in Wales, Scotland and the South West.
On The Water
Right from the off it was evident that, although Pyranha are marketing this as an expedition boat, it is that and so much more.
It has a really nimble feel for a big boat and, although it tracks very well and holds its line well in big water, it was also surprisingly easy to throw around.
We found it a really great boat, especially for bigger guys, for running the steep stuff.
It stays on the surface really well and feels nice and high on the water.
It's fast too, so charging for eddies and punching through holes is easier and we liked its quick acceleration with a few good strokes.
It's quick to turn if needed and performed well on tighter, more technical runs with rock gardens etc.
It's a bit of a cliché but it does boof really well and manages to combine predictability and forgiveness with a high level of performance, without compromising either.
That's no easy task in our book.
Performance doesn't drop when you load it up either and it maintains its speed and handling well.
If it all goes wrong and you do end up upside down, it rolls easily too.
Fixtures & Fittings
The Everest is fitted with Pyranha's excellent Connect 30 fittings.
The adjustable outfitting provides a very comfortable and positive fit.
It features adjustable thigh braces, a comfortable and supportive ratchet back-band, motion-control hip pads, foam padding kit (inc thigh support blocks) and a moveable seat.
It also features Pyranha's great grab handles and three broach loops (one on bow and two behind cockpit).
The only critique we can make is that we added a few layers of extra foam to the seat to raise our paddling position, but that's personal preference really and you may not find the need.
Review Summary
Pros
Very nimble for a bigger boat.
Perfectly suited for bigger paddlers who love running the steep stuff.
Boofs really well.
Rolls nicely and easily.
Cons
We did have to add a few layers of foam to the seat to heighten our paddling position.
As you've probably gathered, we really do think that Pyranha have produced a great boat in the Everest, and one that is more than worthy to bear its illustrious predecessors name.
It's very rare that we test a boat that we can't find something that we don't find something that niggles us, but paddling the Everest only brought grins to our faces.
Over the time we've been using the Everest we've become very fond of it indeed, and out of all the whitewater kayak reviews that we've done now, it has become the weapon of choice for nearly all straight up river trips.
It's size is going to mean that it's not going to be ideal for everyone, but if you're looking for a great exped' boat, or are on the tall or heavier side and want a great all-round river/creeking boat then we'd happily recommend you take an Everest out for a demo.
It would make a good platform for coaching from too, with ample room for all your rescue gear etc. and plenty of volume to make rescues easy.
For a boat labeled as such a 'specialist' it really is surprisingly versatile, and it's as much at home eddy hopping in the Alps or on something closer to home, like the Upper Dart, as it is on some epic Himalayan-multi-day trip.